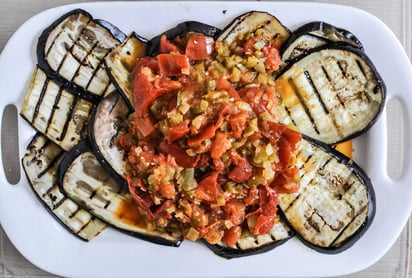 Fire-Grilled Eggplant with Sweet Tomato Gravy
Grilled eggplant gets a summery topping of spicy tomato sauce.
Ingredients
(18)
Eggplant and Marinade:

3 medium eggplants, unpeeled

1/4 cup olive oil

1/3 cup lime juice

1 teaspoon red pepper flakes

2 jalapeno peppers, seeded, finely diced

Tomato Sauce:

2 tablespoon olive oil, plus more for brushing eggplant

3/4 cup diced onion

2 medium green peppers, diced

2 clove garlic, minced

1 tablespoon smoked paprika

1 teaspoon garlic salt

10 large ripe Arizona tomatoes, chopped

¼ to 1 cup vegetable broth, if needed

1 (4-ounce) can diced green chiles

2 tablespoon honey

1/2 teaspoon coarse salt
Ingredient Facts and Health Benefits
Discover fascinating facts and health benefits about some of the ingredients in the recipe, including other delicious recipes!
Directions
Slice eggplants lengthwise into 1/2-inch thick slices and discard outer slices. Each eggplant should yield about 4 to 5 slices.
Combine olive oil, lime juice, red pepper flakes and jalapeño pepper ingredients in a small bowl. Pour marinade over eggplant slices and refrigerate 20 minutes.
While eggplant marinates, prepare tomato gravy. Heat olive oil in a large skillet over medium heat. Add onion, peppers and garlic; sauté until almost tender. Add paprika and salt. Add diced tomatoes; cook until tomatoes start to break down. Add broth if necessary to keep sauce from sticking. Add green chiles including juice and honey. Cook 2 to 3 minutes.
Heat a grill.
Remove eggplant from marinade. Discard marinade. Place eggplant on hot grill until browned. Flip and grill other side. Move eggplant to outer side of grill and close lid. Cook 2 to 3 minutes longer. Remove from grill and place on large platter. Sprinkle with coarse salt. Spoon tomato gravy over eggplant and garnish with additional tomatoes, if desired.