Choose The Membership That's Right For You
Relish Features

Choose The Membership That's Right For You

What You Can Do

Discover and save recipes from Relish publishers
Add recipes to a shopping list
Adjust servings and ingredients on shopping list
Send shopping list to the store for pickup or delivery
Access over 700 high quality meal plans, with new ones added weekly
Save any recipe - from websites, cookbooks or personal family favorites
Edit any saved recipe to suit your needs. Recalculate dietary labels and detailed nutritional information automatically as you make changes
Drag and drop any recipe or meal plan to a calendar for easy scheduling
Customize meal plans by adding your own recipes and changing the number of servings
Enjoy an ad-free experience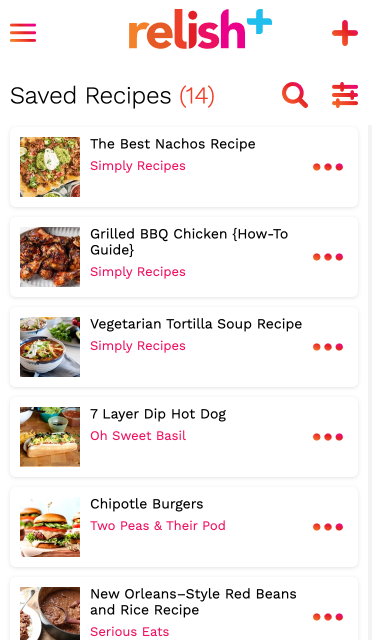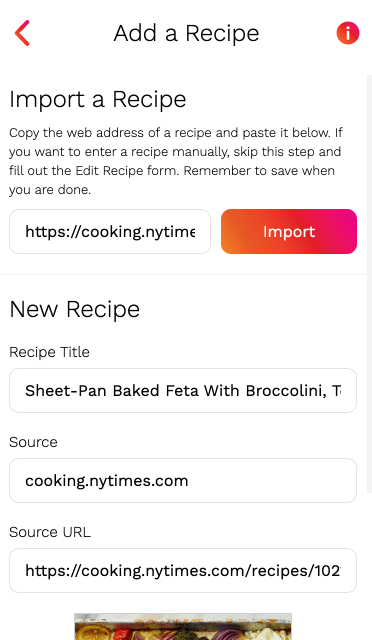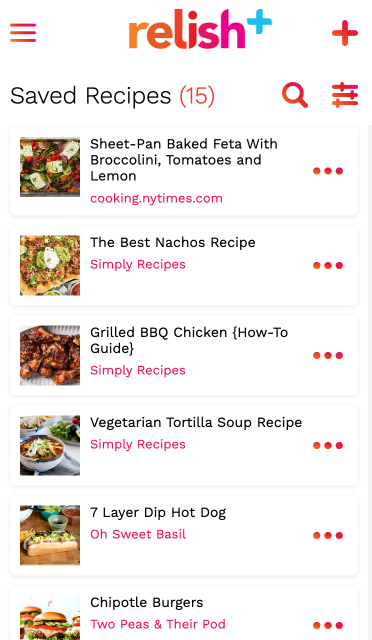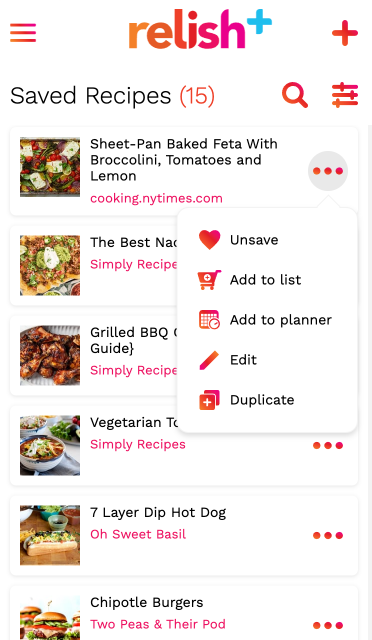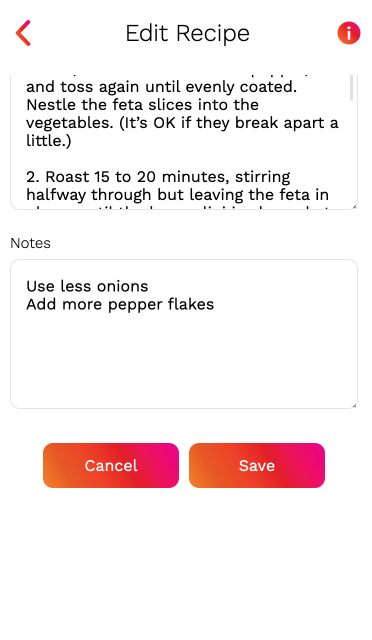 Save and Edit Any Recipe, From Anywhere
Save all of your favorites from any website, cookbook or your own personal family recipes all in one place. You can make changes to any recipe and save your own version, use the recipes to create meal plans and shopping lists, and easily share them.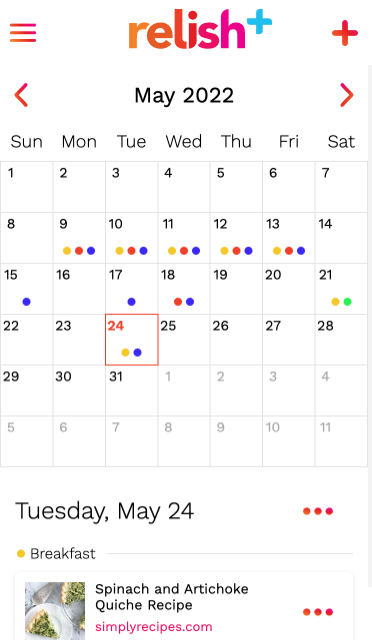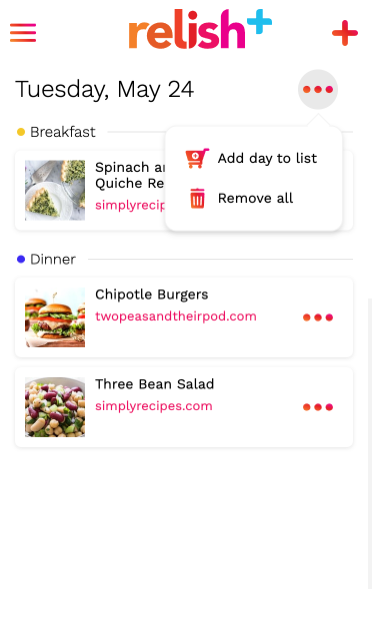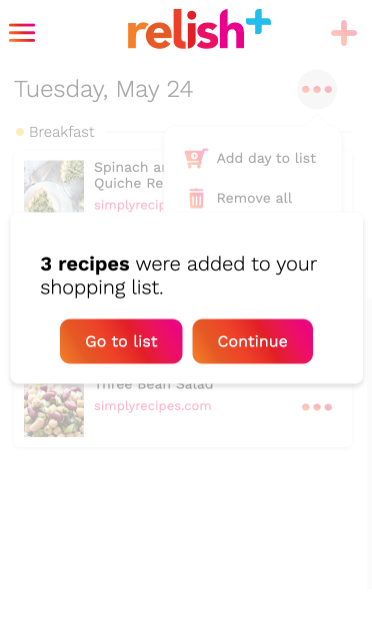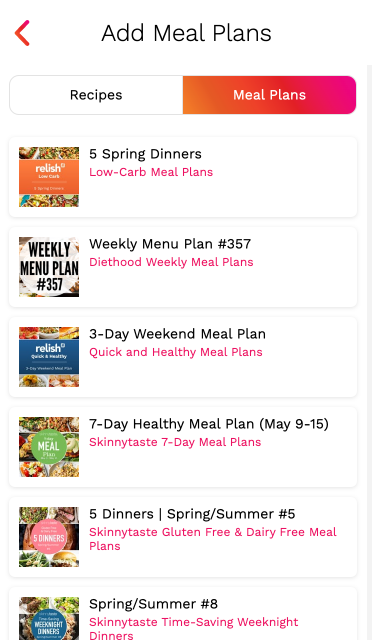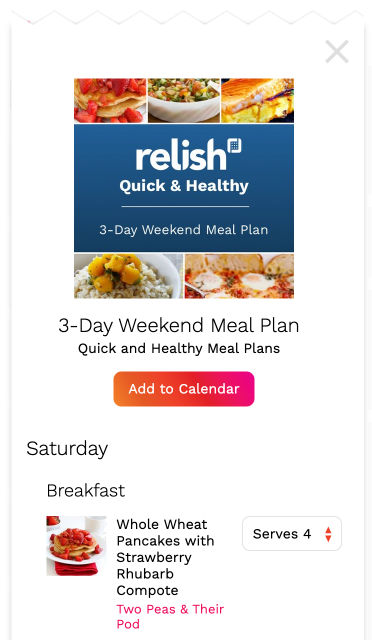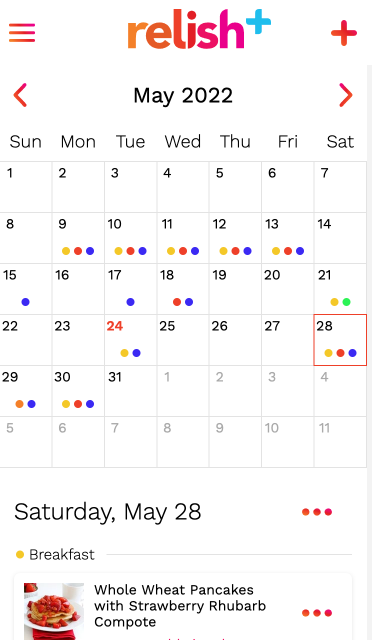 Plan Out Your Week with the Relish+ Calendar
Quickly and easily schedule what your family will be eating for days, weeks or even months at a time! Drag and drop recipes or entire meal plans to the calendar, make adjustments and choose which days to shop for when it is convenient for you.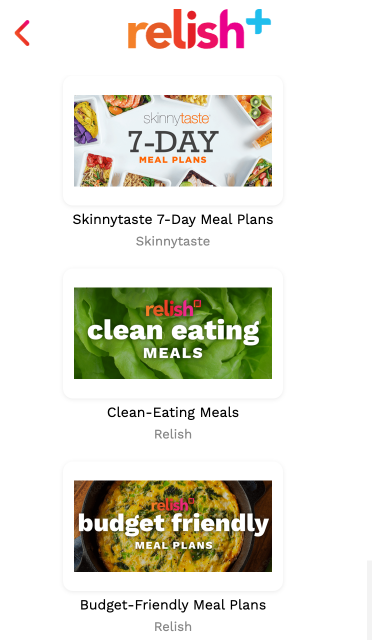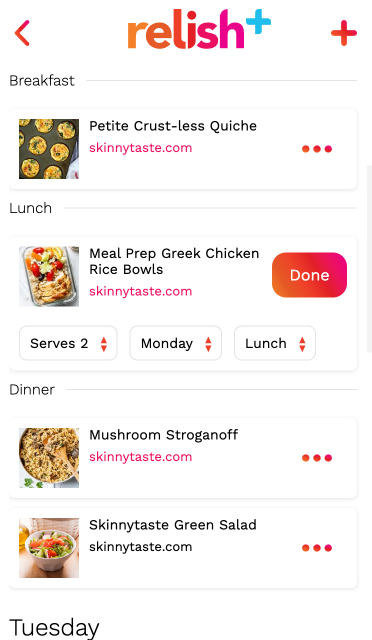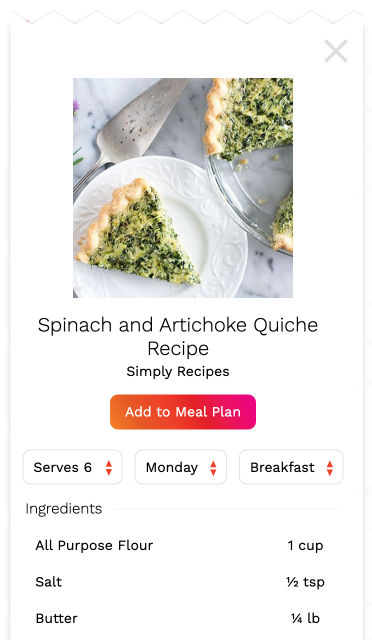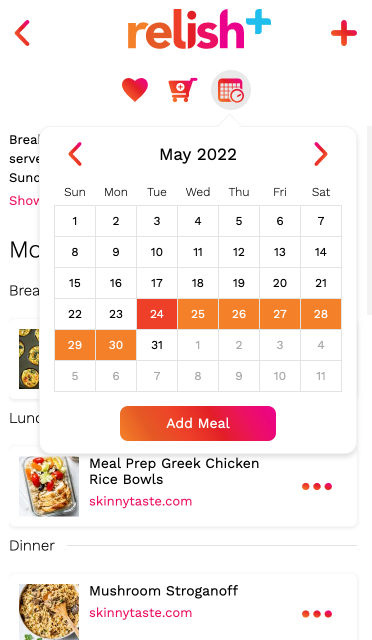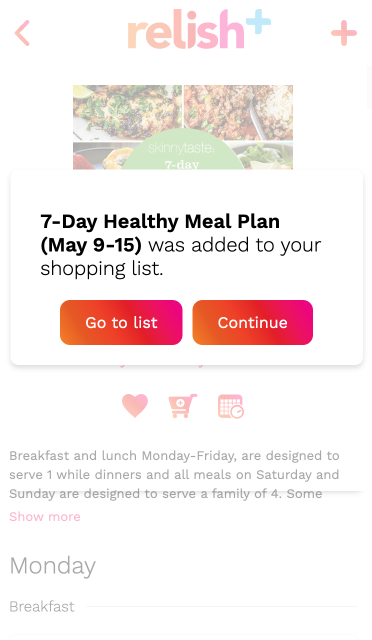 Discover Dinner Ideas with 700+ Customizable Meal Plans
We don't believe in one-size-fits-all meal plans, so we've made it easy for you to customize any of the 500+ plans you'll find in Relish+. You can adjust the number of servings, swap out any recipes and change the amount of days a plan covers so that it works for you.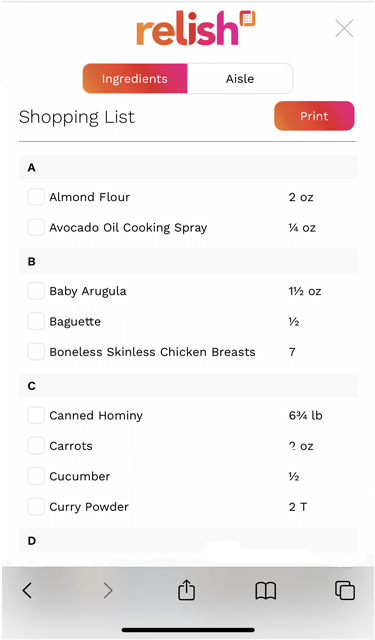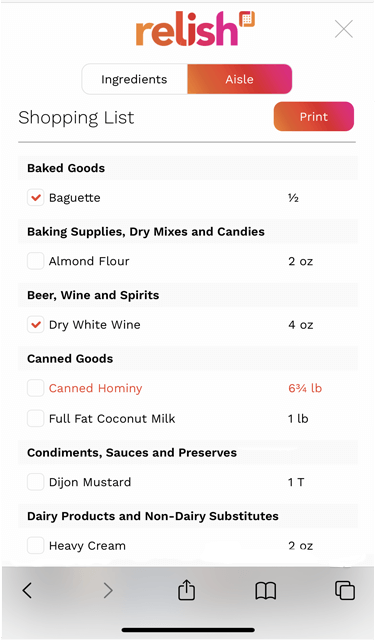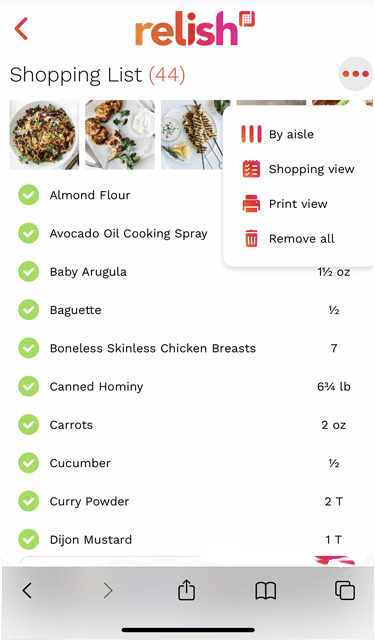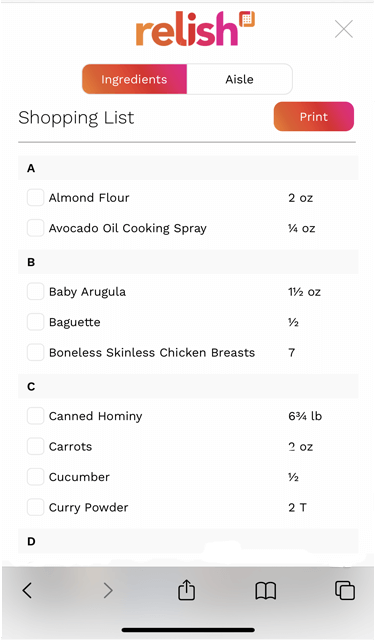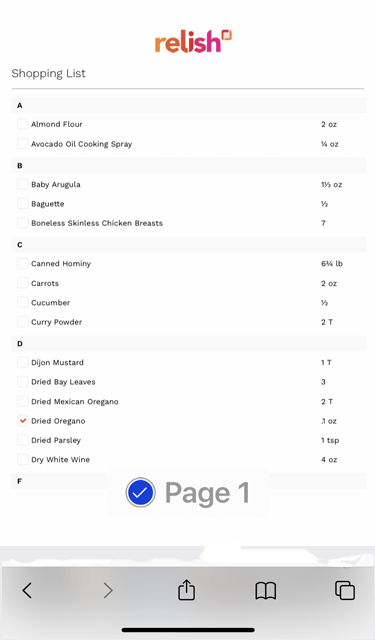 Turn Any Recipe or Meal Plan into a Shopping List
Select the recipes or meal plan you want to make and let Relish create your shopping list in just a few clicks. All of the ingredients are consolidated into one concise list that can be sorted by grocery aisle or alphabetically, and you can easily remove anything you don't need. Use the shopping view when you take your phone to the store and check off items as you shop, or print it out.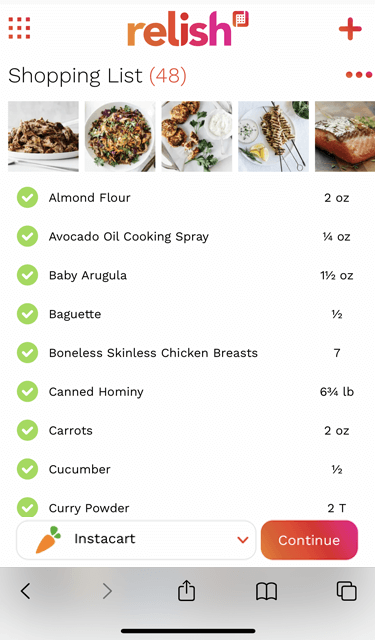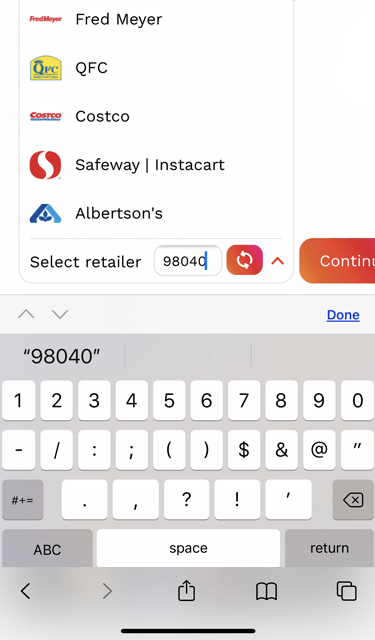 Save Time with Quick and Easy Grocery Ordering
Choose from a selection of local grocery stores and Relish will send your list of items through and build your shopping cart. You just give your cart a once over, add anything else you may need and then place your order for pickup or delivery. Relish works with Instacart, Walmart, Amazon Fresh, Kroger and more.
Find Menus You'll Love from the Best Publishers
Relish+ offers members access to our full library of meal plans created by nutritionists, using tried and true recipes from top bloggers and recipe sites that you know and love. Whether you're looking for Quick & Healthy, Budget Friendly, Low Carb, Clean Eating, Vegetarian, or something in between - we've got you covered.
Solve the What's for Dinner Dilemma in 3 Easy Steps
1

Choose Recipes or a Meal Plan

Select from your favorite recipes and meal plans you have saved, or get inspired by something new you find on Relish+. Add the recipes to your calendar or directly to your shopping list, making sure to adjust the number of servings to fit your needs.

2

Relish Creates Your List

Based on what you're planning to cook, whether it is a full 7-Day Meal Plan or one recipe, the ingredients needed will be added to a consolidated shopping list. No more trips back to the store for that one thing you forgot to add to your list!

3

Get Groceries Fast

Choose from a selection of local grocery stores, and Relish will send your list through and build your shopping cart - you'll be ready to place your order in just a few clicks. Prefer to squeeze the avocados yourself? Just take your list to the store! We've sorted it by grocery aisle for a super easy shopping experience.
Frequently Asked Questions
What are the meal plans like on Relish+? What do they include?

Relish+ meal plans are customizable and flexible. We have 7-day plans that include 3 meals per day, and also a lot of quick and easy weeknight dinners and special occasion or holiday menus. You can easily swap out any recipes you don't like, add or delete days, and change the number of servings to make the plans work for you. Relish+ then generates your shopping list based on your changes.

Where do the recipes come from that are used in the meal plans on Relish+?

Our library of meal plans is created by nutritionists using our database of 50,000+ top rated recipes from popular bloggers and recipes sites, including Simply Recipes, Skinnytaste, Diethood, Cookie & Kate, The Spruce Eats, Oh Sweet Basil, Serious Eats, and more.

Do you have breakfast and lunch plans?

Yes! We do have some great weekday breakfast and lunch plans that can be stacked with a dinner only plan. Also, because of the flexibility of Relish+, you are able to create your own breakfast or lunch plan by easily adding any of your saved recipes to your schedule for the week or days ahead, and the ingredients will be added to your shopping list.

Once I have my shopping list, how do I get my groceries through Relish?

It is easy to get groceries using Relish! Right below your shopping list is a field where you can enter your zipcode to see the grocery services available in your area. From there, you can select the retailer you'd like to use and your cart will be automatically created based on your shopping list. Or, if you'd rather go to the store yourself you can either bring your list with you on your smartphone, or print it out. We've sorted it by grocery aisle so your shopping trip will be quick and easy!

With Relish+, would I have access to all the meal plans?

Unlike many other meal planning services, Relish+ allows members to access our full library of customizable meal plans the moment you become a member, with new plans being added each week.

How much does Relish+ cost?

Relish+ memberships start at $3.75/month with a 12-month membership. There is also a 3-month option available for $4.98/month.