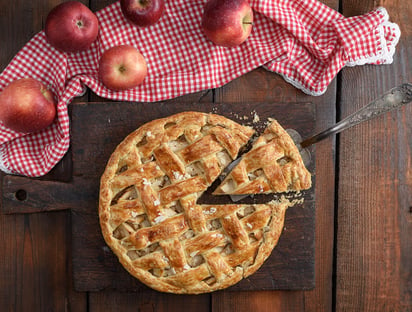 Pellet Smoked Maple Bourbon Apple Pie
Ingredients
(13)
For the pie
1 Rolled Pie Crust (2-Ct)

4 cup Sliced Apple

1 Egg

1 T Water

1 Kingsford® Cherrywood Pellet Pkg
For the maple bourbon sauce
2 tsp Ground Cinnamon

½ tsp Ground Nutmeg

½ tsp Ground Ginger

½ tsp Ground Allspice

⅓ cup Maple Syrup

⅓ cup Bourbon

½ cup Butter

2 tsp Cornstarch
Ingredient Facts and Health Benefits
Discover fascinating facts and health benefits about some of the ingredients in the recipe, including other delicious recipes!
Directions
Combine the sauce ingredients and spices and bring to a low simmer to melt the butter (don't have on heat more than 5 minutes). Remove from heat and add the cornstarch to the sauce to thicken. Pour half of the sauce into a bowl, save the remaining half to pour into the pie.
Place the first pie crust in the bottom of an 8-inch cast iron pan or a pie plate. Add the sliced apples into the pie. Pour the sauce over the apples in the pie (the other half will be served at the end). Place the second pie crust on top of the pie, sealing the edges of the pie crust. Cut 4 small slits in the top of the pie crust to let steam escape.
Combine egg with the tablespoon of water to make an egg wash. Brush the egg wash on the pie crust evenly.
Bake the pie on a pellet smoker using Kingsford® Cherrywood Pellets at 375°F for 25 minutes, or until the pie crust starts to get golden brown. If baking on a charcoal grill, build a charcoal fire on an outdoor grill for both direct and indirect cooking using Kingsford® Charcoal by situating the coals on only one side of the grill, leaving the other side void. This will allow you to bake indirectly in ambient heat like an oven. Keep an eye on the outer edges of the pie crust to ensure they do not get too brown.
Serve the pie with a scoop of vanilla bean ice cream and drizzle the remaining sauce on the ice cream and individual pie slices before serving.
Recipe created by Robyn Lindars from GrillGirl.com on behalf of Kingsford® Charcoal