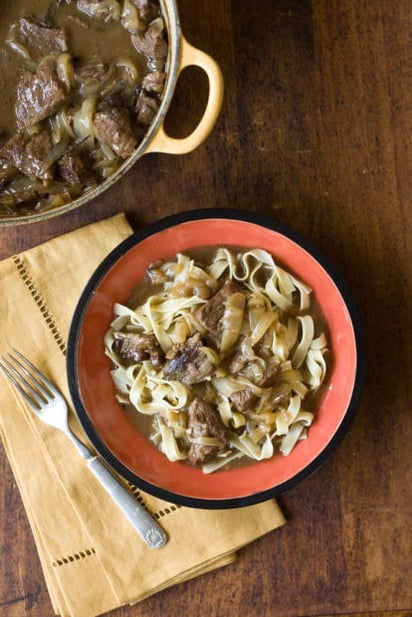 Belgian Beef and Beer Stew
Frites are the traditional accompaniment to this beef stew, but we suggest noodles so you don't miss a drop of the luscious sauce.
Wine isn't the only way to add great flavor to a beef stew. A bottle of dark ale is the secret to this Belgian classic.
Ingredients
(13)
3 lb Boneless Beef Chuck Roast

1 tsp Kosher Salt

1 tsp Freshly Ground Black Pepper

8 tsp Vegetable Oil

2 lb Yellow Onion

3 T All Purpose Flour

3 Garlic Cloves

1½ cup Low Sodium Chicken Broth

12 oz Brown Ale

3 Thyme Sprigs

1 T Dijon Mustard

1 T Red Currant Jelly

1 tsp Cider Vinegar
Ingredient Facts and Health Benefits
Discover fascinating facts and health benefits about some of the ingredients in the recipe, including other delicious recipes!
Directions
Preheat oven to 350F. Pat beef dry with paper towels; season generously with salt and pepper.
Heat a large sauté pan over medium-high heat. Add 2 teaspoons oil and a third of the beef. Sear 2 minutes on each side, or until well browned; transfer to a large Dutch oven. Repeat with remaining beef, using 2 teaspoons oil per batch.
Add final 2 teaspoons oil to pan; reduce heat to medium. Add onions and a pinch of salt. Cover; cook 5 minutes. Uncover and sauté until onions are soft and golden, about 20 minutes. Add garlic and toss with onions 1 minute. Add flour; stir 2 minutes. Pour in broth; increase heat to a simmer. Transfer contents of pan to Dutch oven, scraping bits from bottom of pan; add ale and thyme. Return to a simmer, stir well, cover, and transfer to oven. Cook until beef is very tender, 2 to 2 1/2 hours.
Stir in mustard, jelly and vinegar; cool completely and refrigerate. (The stew is best made ahead 1 or 2 days, and gently reheated).