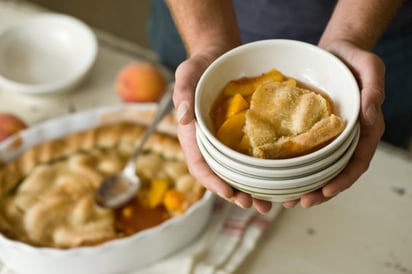 Peach Cobbler with Buttery Crust
Ingredients
(9)
Filling
8 cup Sliced Peaches

1 cup Turbinado Sugar

3 T Cornstarch

½ tsp Salt
Crust
2½ cup All Purpose Flour

3 T Sugar

¼ tsp Salt

¾ cup Butter

4 T Water
Directions
Preheat oven to 425F.

In a large bowl, combine peaches, sugar, cornstarch and salt. Toss well; set aside.

In a separate bowl, Combine flour, sugar and salt, in a food processor and pulse  until blended. Add chilled butter in small pieces and pulse until mixture is the size of coarse meal. Add water and pulse until mixture comes together.

Gather into a ball, and roll out on a floured surface.

Place peaches in a 3-quart shallow dish and cover with dough. Sprinkle with sugar.

Make slits in top and bake at 425F for 30 to 45 minutes.