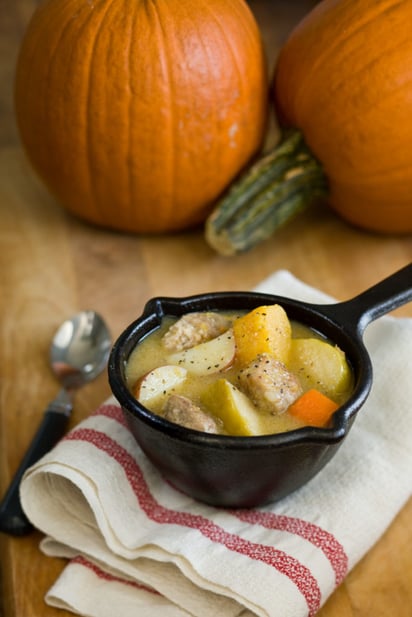 Pumpkin, Pork and Apple Cider Stew
Add potatoes and winter squash to the classic combination of pork and apples for a one-dish meal.
When fresh pumpkins aren't available, use butternut squash or stir 1 (15-ounce) can of pure unsweetened pumpkin into this stew. It adds richness and loads of flavor.
Ingredients
(14)
3 tablespoon all-purpose flour

2 teaspoon crushed fennel seeds

1 teaspoon salt

1/2 teaspoon pepper

2 pound Boston butt, cut into 1-inch cubes

3 tablespoon olive oil, divided

2 medium onions, sliced

2 3/4 cup reduced-sodium chicken broth, divided

1 1/2 cup apple cider

1/4 cup cider vinegar

3 cup peeled fresh pumpkin, cut into 1-inch chunks (about a 2 1/2-pound pie pumpkin)

1 cup carrots, cut into chunks (about 2 carrots)

6 cup red potatoes, cut into 1-inch chunks (about 2 pounds)

1 1/4 cup Granny Smith apples, unpeeled, cut into wedges (2 apples)
Directions
Place flour, fennel seeds, salt, pepper and pork in a large zip-top plastic bag. Seal bag and shake to coat pork.
Heat 2 tablespoons oil in a Dutch oven. Add half the pork and the onions. Cook until pork is browned. Remove from pan. Heat remaining oil in pan. Add remaining pork, and cook until browned. Return cooked pork to pan and add 2 cups broth, cider and cider vinegar. Bring to a boil. Reduce heat and simmer, covered, 1 hour.
Add pumpkin and carrots. Return to boil. Reduce heat and simmer, covered, until vegetables are tender, about 30 minutes.
Add potatoes and apples. Cover and simmer 20 minutes. (If sauce is too thick, add remaining 3/4 cup chicken broth.)