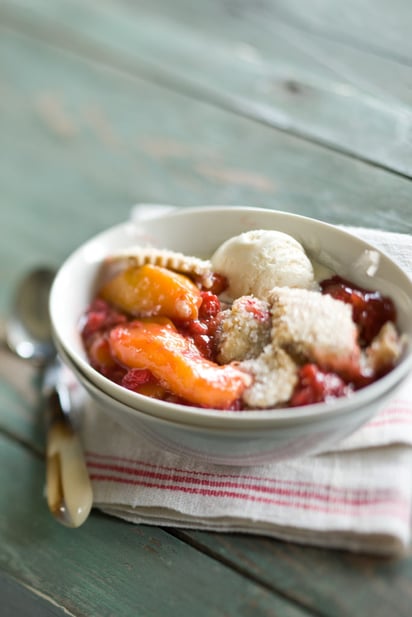 Peach-Raspberry Cobbler
Peak of the season peaches and fresh juicy raspberries make this fruity cobbler sing.
Ingredients
(16)
Crust:

1 1/2 cup all-purpose flour

1/2 cup ground pecans

1 1/2 tablespoon granulated sugar

3 tablespoon cold unsalted butter, cut into small pieces

3 tablespoon vegetable shortening

2 to 3 tablespoon ice water

Filling:

4 cup peeled, sliced peaches

1 1/2 cup raspberries

2/3 cup brown sugar

1/4 cup cornstarch

1/4 teaspoon salt

1 tablespoon lemon juice

1 -- egg beaten with 1 tablespoon water

2 teaspoon turbinado sugar
Ingredient Facts and Health Benefits
Discover fascinating facts and health benefits about some of the ingredients in the recipe, including other delicious recipes!
Directions
To prepare crust, place flour, pecans and sugar in a food processor. Pulse to combine. Add butter and shortening; pulse until crumbly. Add water and stir until dough holds together. Form into a ball; wrap in plastic and refrigerate 45 minutes.
Preheat oven to 425F.
Roll dough on floured surface into a 10-inch circle. Cut into 10 strips.
To prepare filling, combine peaches and raspberries.  Add brown sugar, cornstarch, salt and lemon juice; mix gently. Spoon filling into a 11/2-quart baking dish. Arrange dough strips in a lattice pattern over filling. Brush with beaten egg and sprinkle with sugar. Bake 15 minutes. Reduce temperature to 350F and bake 30 minutes, or until golden brown. Let cool on wire rack.