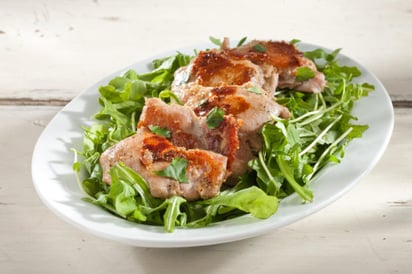 Green Tea Marinated Chicken Thighs
Black tea can be substituted for green tea and flank steak subbed for the chicken; but don't use black tea with the chicken as the tea tannins will stain the chicken a dark color.
Ingredients
(12)
2 T Sugar

¾ cup Brewed Green Tea

1 tsp Ground Coriander

½ tsp Salt

½ tsp Freshly Ground Black Pepper

2 tsp Chopped Fresh Ginger

1 Garlic Clove

3 T Canola Oil

2 lb Boneless, Skinless Chicken Thighs

1 T Chopped Cilantro

(optional)

1 T Chopped Mint

(optional)

6 cup Arugula

(optional)

or

6 cup Spinach
Ingredient Facts and Health Benefits
Discover fascinating facts and health benefits about some of the ingredients in the recipe, including other delicious recipes!
Directions
Stir sugar into tea while hot; let cool. Combine tea with coriander, salt, pepper, ginger, garlic and 2 tablespoons canola oil. Place chicken in a large zip-top plastic bag and pour in half of marinade. Seal and let chill 1 to 6 hours.

Heat remaining marinade over medium high heat  about 4 minutes, or until reduced by one-third.

Remove thighs from marinade; discard marinade in bag. Heat remaining 1 tablespoon oil in a large skillet. Add chicken to pan without crowding and cook until browned, 3 to 4 minutes on each side. Serve with sauce and fresh herbs over greens.