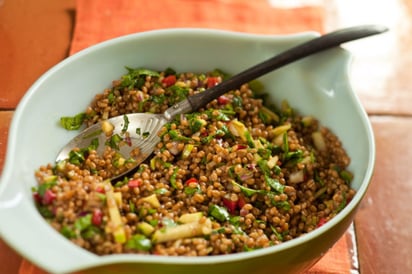 Farro Salad with Apples and Spinach
This hearty salad needs a main course that can stand up to it—we suggest a good, thick steak.
Ingredients
(13)
12 oz Uncooked Wheat Berries

1 cup Chopped Red Bell Pepper

1 cup Diced Zucchini

5 oz Baby Spinach

1 Granny Smith Apple

2 Garlic Cloves

1 Green Onion

⅓ cup Minced Red Onion

3 T Soy Sauce

1 T Seasoned Rice Vinegar

2 tsp Sugar

1 T Sesame Oil

1 T Extra Virgin Olive Oil
Ingredient Facts and Health Benefits
Discover fascinating facts and health benefits about some of the ingredients in the recipe, including other delicious recipes!
Directions
Place wheat berries in a large bowl. Cover with water by about 2 inches and soak 2 hours. Drain well. Place wheat berries in a large saucepan, cover with water and bring to a boil over medium-high heat. Reduce heat, cover and cook about 1 hour, until somewhat tender and chewy. Drain and rinse. Combine wheat berries with remaining ingredients and toss well. Refrigerate 2 hours before serving to allow flavors to meld.