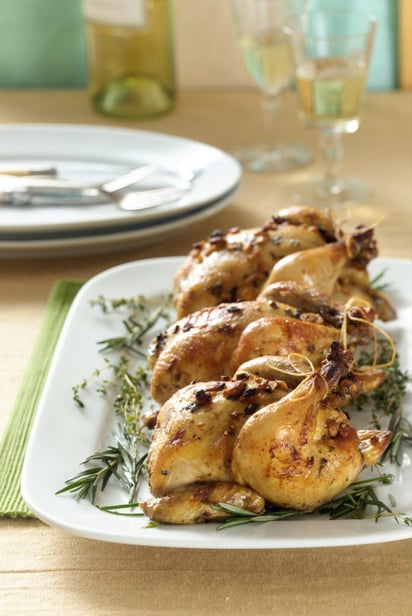 Cornish Hens with Middle Eastern Mojo de Ajo
Picturesque cornish hens marinate in a lemon-based bath in this holiday recipe.
Mojo is a Cuban marinade traditionally containing oil, garlic and sour oranges. Look for za'atar and sumac in Middle Eastern markets.
Ingredients
(11)
1/4 cup vegetable oil

1/4 cup olive oil

1 cup whole garlic cloves, peeled and thinly sliced (about 3 heads)

1 jalapeño pepper, very thinly sliced

1 tablespoon za'atar

1/2 tablespoon sumac

3/4 cup fresh lemon juice

1/4 cup chopped parsley

1/4 teaspoon salt

1/4 teaspoon freshly ground black pepper

4 small Cornish game hens
Ingredient Facts and Health Benefits
Discover fascinating facts and health benefits about some of the ingredients in the recipe, including other delicious recipes!
Directions
Heat oils in a medium saucepan over high heat 2 minutes. Add garlic and cook, carefully shaking pan until garlic starts turning golden. Remove from heat and quickly add jalapeño, za'atar and sumac. Add lemon juice, parsley, salt and pepper. Let cool.
Combine hens and marinade in a large zip-top plastic bag. Place in refrigerator; marinate at least 12 but no more than 24 hours. Place hens, breast side up, and marinade in a roasting pan or baking dish; let stand at room temperature 15 minutes before roasting.
Preheat oven to 375F.
Roast hens 1 hour, or until skin is golden and juices run clear, basting occasionally with marinade. Serve with pan juices and Habanero Mojo.