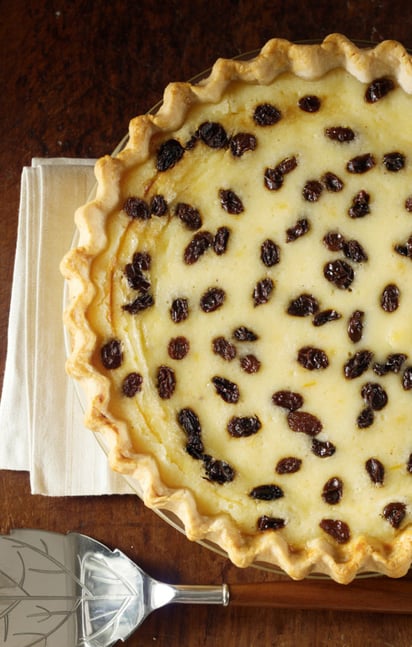 Sour Cream Raisin Pie
Creamy filling and plump raisins, plus a hint of orange.
Ingredients
(15)
Pie Crust:

1 1/4 cup all purpose flour

1/2 teaspoon salt

1/4 cup cold unsalted butter, cut into pieces

1/4 cup vegetable shortening, at room temperature, cut into pieces

3 to 4 tablespoon ice water

3/4 teaspoon cider vinegar

Filling:

2 -- eggs

1 cup sugar

1 teaspoon grated orange rind

1/8 teaspoon ground nutmeg

2 cup sour cream

1 1/2 cup raisins, divided

-- Whipped cream, optional
Ingredient Facts and Health Benefits
Discover fascinating facts and health benefits about some of the ingredients in the recipe, including other delicious recipes!
Directions
To prepare the pie crust, stir together flour and salt in a large bowl. Add cold butter pieces and work into the flour using a pastry blender or two knives. Add the shortening and work into the flour. Combine the ice water and vinegar in a small cup. Add to flour mixture about 1 tablespoon at a time while tossing with a fork. Continue mixing until the dough just gathers into a ball. Flatten into a 1-inch-thick disk, wrap tightly in plastic wrap, and refrigerate about 2 hours. Roll dough on a lightly floured surface into an 11-inch circle and fit it into a 9-inch pie plate (ovenproof glass preferable). Crimp edges.
Preheat oven to 375F.
To prepare the filling, beat eggs in a medium bowl; brush rim of pie crust with 1 teaspoon beaten egg. To remaining egg, add sugar, orange rind, nutmeg and sour cream; beat until evenly blended.
Sprinkle 1 cup raisins over bottom of pie crust; pour sour cream mixture over top. Sprinkle remaining 1/2 cup raisins on top. Bake 30 minutes or until filling is set. The filling puffs up as it bakes and settles as it cools. Cool on a wire rack. Serve with whipped cream.