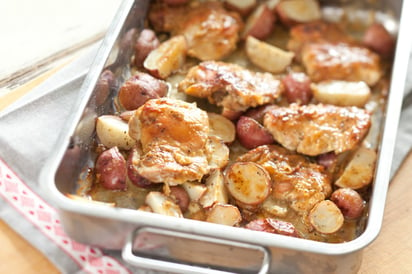 Honey Mustard Chicken with Roasted New Potatoes
Boneless skinless chicken thighs are usually less expensive than breasts.
A honey and mustard coating flavors succulent boneless, skinless chicken thighs. Red potatoes baked with the chicken soak up the juices.
Ingredients
(9)
4 (6-ounce) boneless, skinless chicken thighs

1/2 teaspoon salt

Coarsely ground black pepper

4 tablespoon Dijon mustard

2 tablespoon honey

1 minced shallot

1 tablespoon minced fresh thyme leaves or ½ teaspoon dried

1 pound small red potatoes, cut into halves

Olive oil cooking spray
Ingredient Facts and Health Benefits
Discover fascinating facts and health benefits about some of the ingredients in the recipe, including other delicious recipes!
Directions
Preheat oven to 375F.
Sprinkle chicken thighs with 1/4 teaspoon salt and pepper. Place in a 13 x 9-inch baking dish. Combine mustard, honey, shallot and thyme in a small bowl to form a paste. Spread over thighs, covering them completely.
Add potatoes to the pan and spritz with olive oil spray. Sprinkle potatoes with 1/4 teaspoon salt and pepper.
Bake about 50 minutes, stirring potatoes once, until potatoes and chicken are tender.