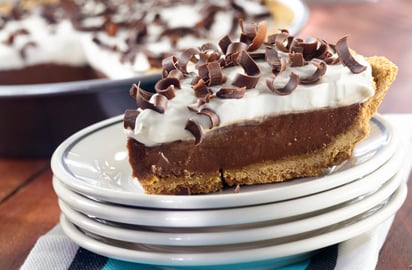 Black Bottom Pie
Layers of chocolate and vanilla fill this classic pie—a no-fail dessert idea.
Ingredients
(16)
Crust:

1 1/3 cup graham cracker crumbs

2 tablespoon sugar

1/3 cup melted butter

Filling:

1 cup sugar

1/4 cup cornstarch

2 eggs

1 egg yolk

2 1/2 cup 2% reduced-fat milk, divided

1 1/2 teaspoon vanilla extract

1 cup semisweet chocolate chips

2/3 cup heavy cream

2 tablespoon powdered sugar

1 tablespoon dark rum

1 ounce semisweet chocolate, shaved
Ingredient Facts and Health Benefits
Discover fascinating facts and health benefits about some of the ingredients in the recipe, including other delicious recipes!
Directions
For crust, heat oven to 375F. In a large bowl combine cracker crumbs, sugar and butter. Press on bottom and sides of a 9-inch pie plate. Bake 8 minutes or until edge is golden brown. Cool on wire rack.
For filling, in a large bowl combine sugar and cornstarch; stir with a whisk. Add eggs, egg yolk and about 3/4 cup milk; whisk to combine.
In a medium saucepan, heat remaining 1 3/4 cups milk until hot; gradually whisk into egg mixture. Pour mixture back into pan; cook over medium heat, stirring with a wooden spoon, until thick and bubbly. Turn to very low heat; cook and stir 1 minute. Remove from heat and stir in vanilla.
For the vanilla custard, pour about half of the custard into a bowl and press plastic wrap on surface.
For the chocolate custard, add chocolate to remaining custard in pan and whisk until smooth. Pour into pie shell and press plastic wrap onto surface. Chill both custards 3 hours or until cold.
Beat cream until soft peaks form. Add powdered sugar and rum and beat until stiff (almost instantly). Whisk vanilla custard and fold in whipped cream. Spread on top of the chocolate layer. Sprinkle shaved semisweet chocolate ribbons over top of pie. Chill 2 hours or until firm enough to cut. Serves 8.