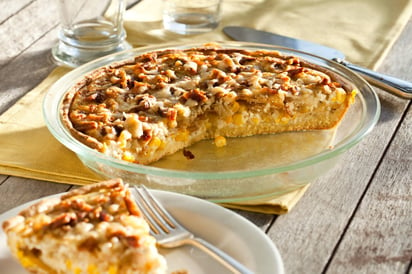 Vidalia Onion Bacon Pie
Caramelized onions, bacon and cheese fill this hearty quiche.
Add 1/4 cup of chopped green onion to the filling to add a splash of green.
Ingredients
(19)
Crust:

Cooking spray

1/2 cup cornmeal

1/2 cup all-purpose flour

1 teaspoon baking powder

1/2 teaspoon salt

1 egg

2 tablespoon butter

2 to 4 tablespoon ice water

Filling:

1 tablespoon butter

3 medium Vidalia or sweet onions, slivered

2 eggs

1/2 cup half-and-half

1/2 teaspoon salt

1/4 teaspoon freshly ground black pepper, plus more for top

1 cup (4-ounces) shredded white Cheddar cheese

1/2 cup corn kernels, fresh or frozen

4 slice thick, smoky-style bacon, cooked and chopped
Ingredient Facts and Health Benefits
Discover fascinating facts and health benefits about some of the ingredients in the recipe, including other delicious recipes!
Directions
To prepare crust, coat a 9-inch deep-dish pie plate with cooking spray.
Place cornmeal, flour, baking powder and salt in the bowl of a food processor fitted with a pastry cutter blade; pulse to combine. Add egg and butter; pulse until mixed. Add water, 1 tablespoon at a time, until a dough ball forms. This will form a sticky mass of dough. Press into pan. If the dough is too sticky, add a little cornmeal.
Preheat oven to 350F.
To prepare filling, melt butter in a large skillet over medium-high heat. Add onions and saute 30 minutes, stirring occasionally, until lightly browned. Drain if necessary.
Combine eggs, half-and-half, salt and pepper in a bowl. Whisk well. On bottom of pie, sprinkle half the shredded cheese. Top with corn kernels, onions and bacon. Pour egg mixture over top. Top with remaining cheese and freshly ground black pepper.
Bake 40 minutes, until top is set and browned.