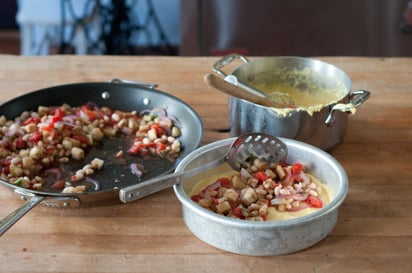 Polenta with Eggplant, Tomatoes and White Beans
Meatless Monday Perfection—a bed of cheesy polenta soaks up the soupy goodness of veggie and white bean stew.
Ingredients
(17)
Eggplant filling:

1 tablespoon olive oil

1 (1 pound) eggplant, peeled and cut into about 1/2-inch cubes

1 cup vertically sliced onion

1 (14.5-ounce) can diced, peeled tomatoes or 1 3/4 cups diced, peeled tomatoes

1 cup rinsed, drained canned Great Northern beans

1/4 cup chopped fresh basil

1/2 teaspoon coarse salt

1/4 teaspoon freshly ground black pepper

Polenta:

2 cup 2 percent reduced-fat milk

1 1/2 cup water

1 cup yellow cornmeal

1/4 cup grated Parmigiano Reggiano cheese

1 tablespoon unsalted butter

1/2 teaspoon coarse salt

1 cup (4-ounces) shredded part-skim mozzarella cheese
Ingredient Facts and Health Benefits
Discover fascinating facts and health benefits about some of the ingredients in the recipe, including other delicious recipes!
Directions
To prepare eggplant filling, heat oil in a large nonstick skillet over medium-high heat. Add onion and eggplant; cook, stirring occasionally, until eggplant is lightly browned, about 7 minutes. Remove from heat; add tomatoes, beans, basil, salt and pepper and stir to combine.
Preheat oven to 400F. Grease a 2-quart baking dish.
To prepare polenta, combine milk and water in a large saucepan. Whisk in cornmeal. Cook over medium-high heat, whisking constantly, until thickened, about 4 minutes. Remove from heat; whisk in cheese, butter and salt.
Spread half the polenta (it will be a thin layer) in baking dish; top with eggplant mixture and remaining polenta. Sprinkle with mozzarella. Bake 25 minutes or until flecked with brown and bubbly.