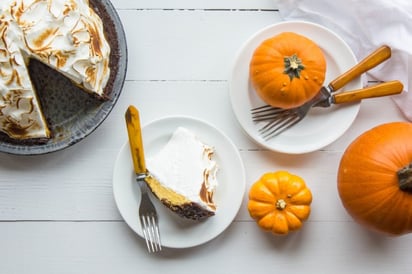 Pumpkin Meringue Pie with Brown Butter Gingersnap Crust
A stunning pumpkin pie piled high with airy meringue and nestled in a gingersnap crust.
Ingredients
(21)
Crust:

25 2-inch gingersnap cookies

2 tablespoon sugar

1/2 teaspoon cinnamon

1/4 teaspoon Kosher salt

1/4 cup unsalted butter

Filling:

15 ounce pumpkin puree

1 1/2 cup heavy cream

2 eggs

3/4 cup sugar

1/4 teaspoon nutmeg

1/4 teaspoon ground ginger

1/4 teaspoon all spice

1/2 teaspoon cinnamon

1/4 teaspoon salt

Meringue:

4 egg whites, at room temperature

1/2 cup sugar

Pinch of cream of tartar

1/2 teaspoon vanilla extract
Ingredient Facts and Health Benefits
Discover fascinating facts and health benefits about some of the ingredients in the recipe, including other delicious recipes!
Directions
For the Crust:
In a small saucepan melt butter over low heat, until lightly browned, about 5 minutes. Set aside.
In a food processor, pulse cookies until they are finely ground and no large pieces remain. Add the sugar, cinnamon and salt and pulse once or twice to combine. Pour the melted butter over top and pulse an additional 10 seconds until all of the butter is incorporated. Pour the crumbs into a 9-inch pie dish and press firmly and evenly along the sides and bottom. Place the crust in the freezer while you prepare the filling.
For the Filling:
Preheat oven to 375F.
In a medium bowl, combine pumpkin, cream, eggs, sugar, spices and salt. Whisk until fully incorporated. Remove the crust from the freezer and place the pie dish on a rimmed baking sheet. Pour the filling into the crust and bake for 45-50 minutes until the edges are firm but the center is still a bit wobbly. Cool completely and chill before topping with the meringue.
For the Meringue:
Combine the egg whites, sugar and cream of tartar in the bowl of a stand mixer. Whisk by hand until combined and set over a simmering pot of water, making sure the surface of the bowl does not touch the water. Stir with a whisk until the sugar dissolves and make sure no granules remain. Remove from the heat, add the vanilla and place the bowl on the mixer stand fitted with the whisk attachment. Whip on medium high until stiff peaks form.
Pile the meringue on top of the chilled pie. Use a kitchen torch to brown the top of the meringue, or place the pie under the broiler in the oven for 2-3 minutes. Watch carefully. Remove and serve immediately.