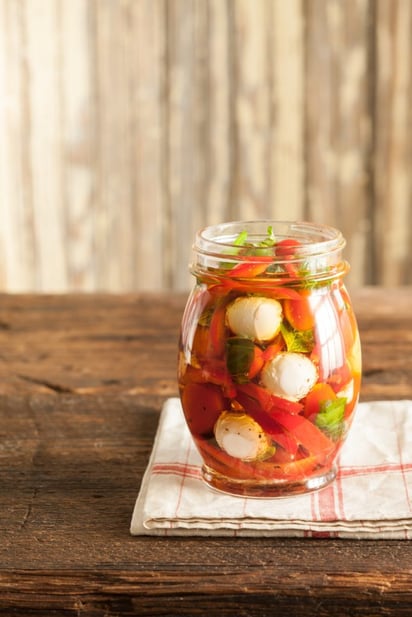 Caprese Jar Salad
Toss this bright, fresh tomato mixture with pasta or serve as a bruschetta topping.
Ingredients
(10)
1 pint ripe grape tomatoes

1/4 cup fruity extra-virgin olive oil, divided

1/2 teaspoon coarse salt

1/4 teaspoon cracked black pepper

1/2 teaspoon sugar

1 red bell pepper, thinly sliced

2 tablespoon balsamic vinegar

1 (4-ounce) fresh mozzarella ball, cut into bite-size pieces

2 sprig (about 1/2 ounce) fresh basil, chopped

2 clove garlic, finely chopped
Ingredient Facts and Health Benefits
Discover fascinating facts and health benefits about some of the ingredients in the recipe, including other delicious recipes!
Directions
In a small mixing bowl, toss grape tomatoes with 1 tablespoon olive oil, salt, pepper and sugar.
Layer tomato mixture, bell peppers, mozzarella, basil and garlic into 4 (1-cup) glass canning jars. Sprinkle balsamic vinegar over layers. Pour olive oil into jars to cover tomatoes.
Let stand at least 30 minutes so flavors will intensify. Serve or refrigerate up to 1 week. Makes 2 pints.