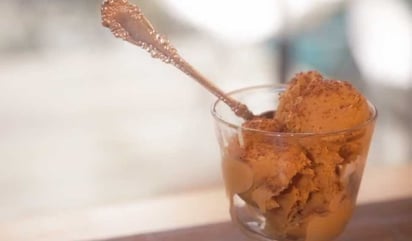 Guinness Stout Ice Cream
Rich Guinness stout makes a standout ice cream that's full of flavor.
When making ice cream, be sure that your mixture and ice cream machine canister are completely chilled, or else the ice cream won't set up completely while churning. If you like a firmer ice cream, be sure to freeze it for an hour or so after churning.
Ingredients
(5)
12 ounce Guinness stout

4 cup half and half

3/4 cup sorghum

1 vanilla bean, split and seeds removed

6 egg yolks
Ingredient Facts and Health Benefits
Discover fascinating facts and health benefits about some of the ingredients in the recipe, including other delicious recipes!
Directions
Reduce Guinness by 3/4 in large saucepan over medium heat. Lower heat to medium-low and add half and half, sorghum and vanilla (bean and seeds). Stir to combine and bring to just a boil. Remove pot from heat.
Beat egg yolks until thick. Add a ladle of beer mixture to egg yolks and combine, add egg/beer mixture back to pot. Return pot to low heat and cook until thickened, about 5 minutes. Pour mixture into clean bowl and let cool completely, at least 2 hours.
Strain mixture to remove vanilla bean and pour into ice cream maker canister. Freeze according to manufacturer's instructions.