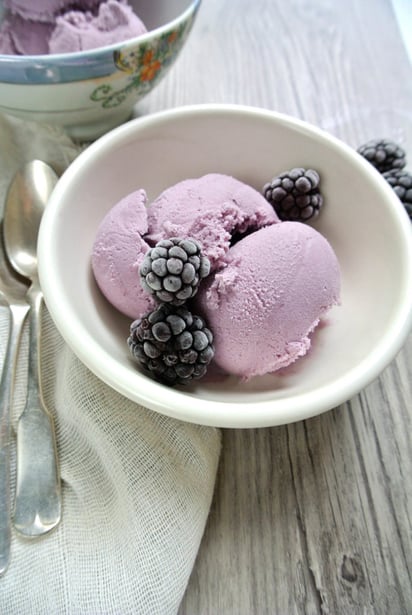 Fresh Blackberry Ice Cream
Midsummer is the perfect time to indulge in a blackberry-laden treat.
Ingredients
(7)
2 cup whole milk

1 1/4 cup turbinado sugar

1/4 teaspoon kosher salt

1 cup half-and-half

2 teaspoon vanilla bean paste

2 cup heavy cream

2 1/2 cup fresh blackberries, washed and pureed
Directions
Heat milk in a medium saucepan over medium heat until bubbles form around the edge. Remove from heat. Stir in salt and sugar until dissolved. Then stir in half-and-half, vanilla bean paste, heavy cream and pureed blackberries. Stir well.
Cover and refrigerate until thoroughly chilled, at least 1 hour, but overnight works too.
Churn in ice cream maker according to manufacturer's directions. Serve "soft" or freeze until serving time. Makes approximately 2 quarts.