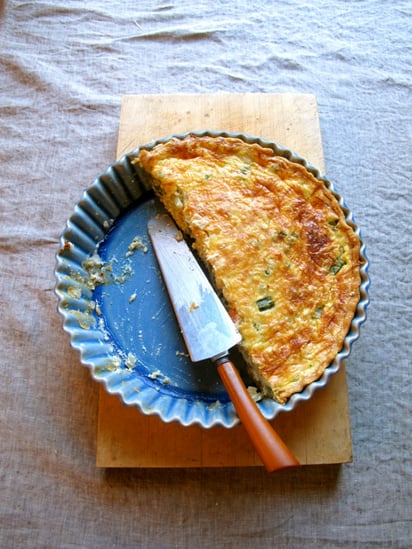 Primavera Quiche
Colorful vegetables make this deep-dish quiche as beautiful as it is delicious.
Ingredients
(15)
2 tablespoon extra-virgin olive oil

1 fennel bulb, 1/4-inch dice, fronds reserved (optional)

1 sweet onion, 1/4-inch dice

2 spring carrots, peeled, 1/4-inch dice

1 bunch medium to large asparagus, trimmed and sliced into 1/4-inch pieces

1/2 teaspoon coarse salt

1/2 teaspoon freshly ground black pepper

1 cup shelled fresh green peas

3 garlic cloves, minced

1 (9-inch) refrigerated deep-dish pie crust

2 cup half-and-half

4 eggs

5 to 6 ounce herb cream cheese (such as Boursin or Rondelle), softened

1 cup grated Parmigiano Reggiano cheese

1 ounce fresh basil, chiffonade
Ingredient Facts and Health Benefits
Discover fascinating facts and health benefits about some of the ingredients in the recipe, including other delicious recipes!
Directions
Preheat oven to 375F.
Heat olive oil in a large sauté pan over medium-high heat. Add fennel, onion and carrots and cook 4 minutes, stirring. Add asparagus, salt and pepper; cook 2 minutes. Add peas and garlic; cook 2 minutes. Spread vegetables evenly on the bottom of the pie crust.
Whisk together half-and-half, eggs and herb cheese until smooth. Pour over vegetables. Sprinkle Parmigiano Reggiano on top.
Bake until the top is puffed and golden brown and a knife in the center comes out clean, 30 to 35 minutes. Let cool 10 minutes and slice into wedges. Sprinkle each serving with basil.