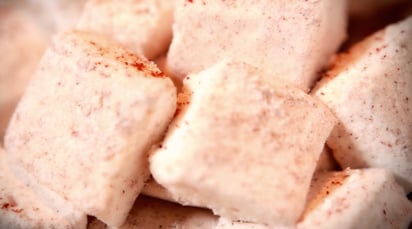 Spicy Mayan Apocalypse Marshmallows
Sweet and fluffy homemade marshmallows inspired by the Mayan Apocalypse. 'Cause who wants a bad marshmallow to be their last?
Ingredients
(9)
3 packages gelatin

1 cup cold water, divided

1 1/2 cup granulated sugar

1 cup light corn syrup

1/4 teaspoon sea salt

1/2-1 teaspoon cinnamon extract or flavor

1/2 cup cornstarch

1/2 cup powdered sugar

1 teaspoon ground cayenne pepper
Ingredient Facts and Health Benefits
Discover fascinating facts and health benefits about some of the ingredients in the recipe, including other delicious recipes!
Directions
Combine gelatin and 1/2 cup water in the bowl of a stand mixer, mix and set aside to bloom while cooking sugar. Combine remaining 1/2 cup water, granulated sugar, cornstarch and salt. Cook over medium heat until mixture reaches 240F on a candy thermometer.
With the stand mixer running, slowly drizzle hot sugar into bloomed gelatin. Beat on high for 15 minutes. Add cinnamon extract and mix 30 seconds more.
Combine cornstarch, powdered sugar and cayenne pepper in a bowl or sifter and mix well. Line a sheet tray with parchment paper or a silicone pan liner and thoroughly dust with powdered sugar mix. Pour the marshmallow fluff onto the prepared tray and smooth with a spatula. Tip: To prevent spatula from sticking, spray it with non-stick spray. Set aside in a cool, dry place for 12 hours to allow fluff to air-dry.
Using a pizza cutter, knife or cookie cutter, cut marshmallow into desired shapes and sizes. Dust the cut sides of marshmallows with leftover powdered sugar mix to prevent sticking. Store in an airtight container at room temperature until used. Makes 1 standard half-size tray, or about 6 cups, of fluff.