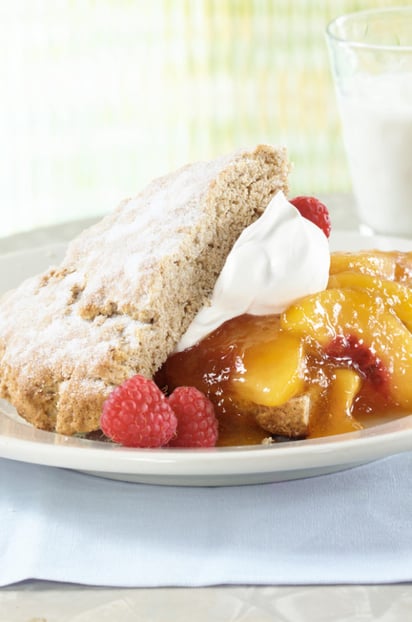 Peach Shortcake
One of summer's delights, peach shortcake is everyone's favorite.
Whole-wheat flour gives the shortcake a nutty taste.
Ingredients
(21)
Filling:

2 1/2 to 3 pound peaches (about 6 to 8 peaches), peeled, pitted and sliced

1/2 cup fruit-only peach preserves

1 1/2 tablespoon sugar (optional)

1/2 to 1 tablespoon peach liqueur, peach schnapps or peach brandy (optional)

1/8 teaspoon almond extract

Shortcake:

Cooking spray

2 cup all purpose flour

2 cup whole-wheat flour

1/2 cup sugar, plus 3 tablespoons, sugar, divided

3 1/4 teaspoon baking powder

3/4 teaspoon baking soda

1/4 teaspoon salt

1/3 cup cold butter, cut into small pieces

4 1/2 tablespoon vegetable shortening, in small pieces

1 cup buttermilk

2 eggs

1 1/2 teaspoon vanilla extract

1 1/2 cup whipped cream

Fresh raspberries (optional)
Ingredient Facts and Health Benefits
Discover fascinating facts and health benefits about some of the ingredients in the recipe, including other delicious recipes!
Directions
To prepare filling, combine all ingredients in a large bowl, tossing well. Using your fingers, coarsely mash 1 or 2 handfuls of peaches. This releases their juice but still leaves plenty of texture.
Preheat oven to 425F. Lightly coat a baking sheet with cooking spray.
To prepare shortcake, combine flours, 1/2 cup sugar, baking powder, soda and salt in a food processor. Add butter and shortening and pulse to make a crumbly mixture (alternatively, add sifted ingredients to a bowl and cut shortening and butter in by hand).
Combine buttermilk, eggs and vanilla in a small bowl, beating well with a fork. With the processor running, pour in buttermilk mixture. Pulse until dough holds together.
Place dough on prepared baking sheet; gently pat into a 12-inch round. Sprinkle with 3 tablespoons sugar. Bake 15 minutes or until golden brown. Remove from the oven and let cool on a rack until only slightly warm.
Slice cake into 8 wedges. Cut each wedge open and spoon peach filling over bottom. Top with whipped cream and top of wedge. Garnish with fresh raspberries, if using.