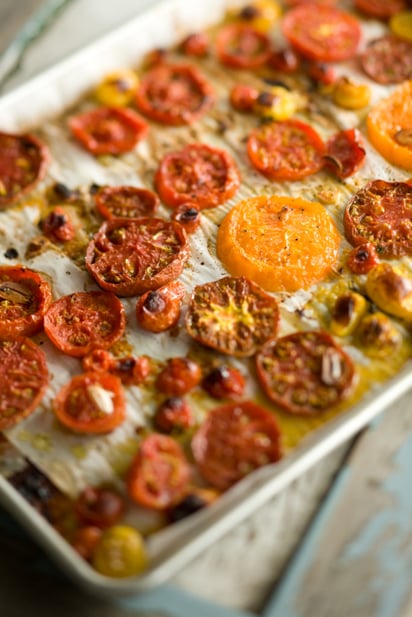 Roasted Tomatoes
Marvelous things happen when tomatoes meet high heat and olive oil.
Roasting concentrates tomatoes' natural sugars and flavors and gives them a buttery rich texture. Toss in pasta, top pizza or bruschetta, or serve alongside chicken or beef.
Ingredients
(5)
12 Roma tomatoes or round tomatoes

1 tablespoon olive oil

1/2 teaspoon coarse salt

Freshly ground black pepper

3 clove garlic, sliced
Directions
Preheat oven to 400F.
Slice and core tomatoes. Place on parchment-lined baking sheet. Drizzle with olive oil; sprinkle with coarse salt, pepper and sliced garlic. Bake 30 to 60 minutes, until juices have evaporated. Store in a plastic zip-top bag in refrigerator or freezer. You can also slow roast tomatoes in a 250F oven 3 to 4 hours.