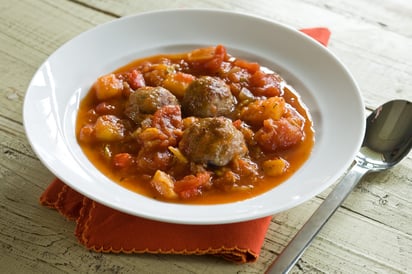 Turkey-Feta Meatballs
Feta enhances ground turkey, and vegetables abound in a marinara sauce.
You'll have plenty of sauce—enough to freeze and serve later. Use this vegetable-infused sauce anywhere you'd use marinara.
Ingredients
(17)
Vegetable Tomato Sauce:

1/4 cup olive oil

2 white onions, chopped

2 garlic cloves, chopped

2 red bell peppers, chopped

2 zucchini or yellow squash, grated

2 carrots, grated

1 butternut or acorn squash, peeled and chopped

2 tablespoon fresh or 2 teaspoons dried thyme

2 tablespoon fresh or 2 teaspoons dried oregano

4 (28-oz) cans chopped tomatoes, reduced-sodium

Meatballs:

1 pound ground turkey

1/3 cup diced red onion

1/3 cup (about 2 ounces) crumbled feta cheese

2 garlic cloves, crushed

1/2 teaspoon chopped fresh rosemary or fresh basil
Ingredient Facts and Health Benefits
Discover fascinating facts and health benefits about some of the ingredients in the recipe, including other delicious recipes!
Directions
To prepare sauce, heat olive oil in a large saucepan over medium heat. Add onion and garlic; sauté 5 minutes. Add bell pepper and next 5 ingredients (bell peppers through oregano). Cook 10 minutes. Add tomatoes and simmer until butternut squash is tender, about 20 minutes. For a smooth sauce, purée all ingredients in a food processor.
Preheat oven to 350F.
To prepare meatballs, mix all ingredients in a bowl; add some water if mixture is dry. Shape into 12 balls and place on a greased baking sheet. Bake about 25 minutes, until golden brown and thoroughly cooked. Serve with about half the sauce over spaghetti, if desired.