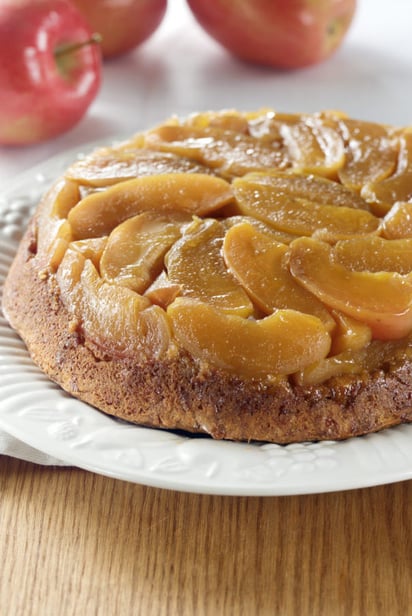 Tarte Tatin
Sweet apples play against sharp Cheddar cheese in this old-fashioned cake.
Instead of a pastry crust, we've used a thin, crisp biscuit topping (in the manner of the old New England dessert known as "Plate Cakes"). This biscuit is made with shredded sharp cheese and a touch of cornmeal. The play of this against the sweet apples is quite spectacular, as anyone who's ever enjoyed a wedge of sharp Cheddar with a piece of apple pie, can surely imagine.
Ingredients
(17)
Cooking spray

Fruit:

3 tablespoon butter

1/2 cup light brown sugar

5 to 6 apples (such as Golden Delicious), pared, cored, and cut into 8 wedges each

2 tablespoon maple syrup

Cheese Biscuit Crust:

3/4 cup all-purpose flour, plus additional for rolling

1/3 cup stone ground yellow cornmeal

1 1/2 teaspoon baking powder

1/2 teaspoon baking soda

1/2 teaspoon salt

3 tablespoon cold butter, cut into small pieces

1/2 cup freshly grated Parmesan cheese

3/4 cup shredded extra-sharp Cheddar cheese

1/2 cup buttermilk or plain yogurt

Ice water
Ingredient Facts and Health Benefits
Discover fascinating facts and health benefits about some of the ingredients in the recipe, including other delicious recipes!
Directions
Preheat oven to 425F. Coat a 9- or 10-inch cast-iron skillet with cooking spray, and place over medium heat. Add butter; swirl pan to coat bottom evenly. Add sugar, and cook over medium heat, shaking occasionally, until sugar starts to melt.
Add apples, placing prettiest wedges in first, curved side down, in concentric circles. Then top with several more layers of apple wedges (they don't have to be orderly). Cover, lower heat slightly, and steam about 6 to 8 minutes, occasionally shaking pan gently, lifting lid, and spooning cooking liquid over apples, then recovering. Remove lid, turn off heat, and drizzle maple syrup over apples. Set aside.
Combine flour, cornmeal, baking power, baking soda and salt in a food processor. Pulse a few times to combine. Add butter and cheeses, and pulse several times until mealy, with distinct but small pieces of butter and cheese. Add buttermilk; pulse. Add 2 or 3 tablespoons ice water, 1 tablespoon at a time, and pulse until dough begins to come together.
Turn out onto a floured board; press or roll into a circle the size of the skillet. It will be thicker than a pastry crust but much thinner than a conventional biscuit. Don't worry about tears.
Place dough on top of apples, tucking any extra in at the sides. Bake 25 to 30 minutes or until top crust is very golden and a bit crisp.
Let stand about 5 minutes; then turn out onto a large platter, replacing any apples that may have stuck to the bottom of the skillet. Serve warm.