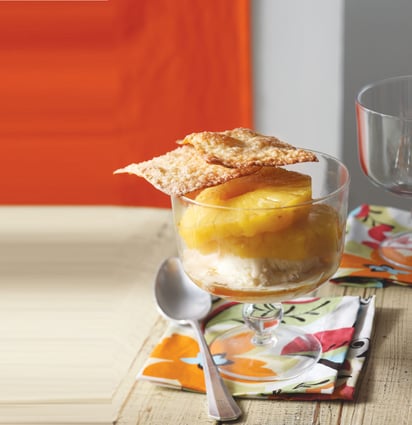 Poached Pineapple Sundaes with Cinnamon Wontons
Pineapple poached in a tea-infused syrup atop ice cream with a side of crisp cinnamon wafers.
Pineapple slices are poached in a tea-infused syrup and served over frozen yogurt. Serve with crispy, thin cinnamon-flavored cookies.
Ingredients
(11)
Cookies:

1/2 cup sugar

1 1/2 teaspoon ground cinnamon

32 wonton wrappers

4 tablespoon butter, melted

Sundaes:

1 ripe fresh pineapple

5 cup water

1/2 cup honey

4 rose hips tea bags or 3 tablespoons dried rose hips

1 cup vanilla frozen yogurt
Ingredient Facts and Health Benefits
Discover fascinating facts and health benefits about some of the ingredients in the recipe, including other delicious recipes!
Directions
Preheat oven to 400F.
To prepare wontons, combine sugar and cinnamon in a small bowl.
Separate wonton wrappers and place on baking sheets, about 1/2 inch apart. Using a pastry brush, brush lightly with melted butter. Sprinkle evenly with cinnamon-sugar. Bake 5 to 7 minutes, until crisp and golden. Be careful not to overbake. Cool on a wire rack. Keep tightly covered in an airtight container. Makes 32.
To prepare sundaes, remove skin from pineapple, making sure to remove all the "eyes" (the little dark brown spots.) Cut pineapple, crosswise, into 8 thick rounds. Remove core with a small knife.
Place pineapple in a large skillet. Add water and honey. Bring to a boil. Add tea bags or rose hips and lower heat to a simmer. Cover and cook 20 minutes or until pineapple is just tender. Remove pineapple with a slotted spoon and place in a shallow casserole. Discard tea bags or strain liquid through a sieve to remove rose hips.
Cook remaining liquid over high heat until reduced to 2 cups. Pour over pineapple. Cover and chill until very cold. Place frozen yogurt in glasses, top with pineapple, and drizzle with syrup. Serve with 2 wontons per serving. Serves 4.