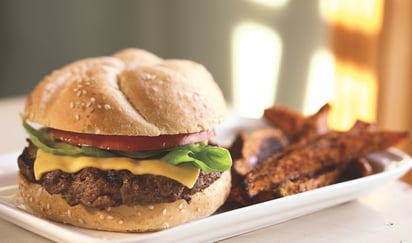 Herbed Buffalo Burgers
Lean buffalo is perfectly suited to creating a flavor-packed burger thanks to a host of herbs.
An egg and cooked onion add moisture to lean buffalo burgers.
Ingredients
(17)
Burgers:

1 tablespoon olive oil

1 medium onion, finely chopped

1 garlic clove, minced

1 1/2 pound ground buffalo

1 teaspoon salt

1/2 teaspoon coarsely ground black pepper

1/2 teaspoon dried thyme leaves, crumbled

2 tablespoon chopped parsley

1 large egg

1 tablespoon Worcestershire sauce

To assemble:

Sharp Cheddar or American cheese slices

Hamburger buns

Lettuce, optional

Sliced tomato, optional

Mayonnaise, optional
Ingredient Facts and Health Benefits
Discover fascinating facts and health benefits about some of the ingredients in the recipe, including other delicious recipes!
Directions
Heat olive oil in a medium skillet over medium heat; add onion and garlic and saute 5 minutes.
Combine buffalo, onion mixture and remaining ingredients. Form into 6 patties about 3/4-inch thick. Place on a tray lined with plastic wrap, cover with more plastic wrap, and refrigerate until ready to cook. (Patties may be prepared 1 day ahead).
Preheat grill until hot. Place patties on the grill rack over coals and cook, covered, about 4 minutes. Flip, top with sliced cheese, cover and cook 3 to 4 minutes more, until done. Place patties on bun bottoms; top with lettuce, tomato and mayonnaise, if using, and bun tops. Serves 6.