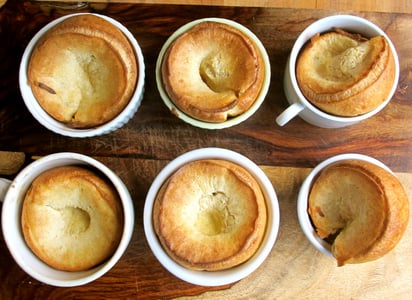 Brown Sugar Cinnamon Popovers
Crispy on the outside, slightly custardy on the inside, these slightly sweet popovers are a snap to make.
This sweet popover could be served impressively in place of muffins. Heating the milk briefly makes the butter easier to incorporate.
Ingredients
(10)
3/4 cup all-purpose flour

1/4 cup whole-wheat flour

1/2 teaspoon ground cinnamon

1/4 cup packed brown sugar

1/2 teaspoon salt

1 cup 2 percent reduced-fat milk

1 tablespoon unsalted butter, melted

1 teaspoon vanilla extract

2 eggs, beaten

2 tablespoon powdered sugar
Ingredient Facts and Health Benefits
Discover fascinating facts and health benefits about some of the ingredients in the recipe, including other delicious recipes!
Directions
Preheat oven to 450F.
In a bowl, stir together flours, cinnamon, brown sugar and salt. In a large glass liquid measuring cup or bowl, heat milk until just lukewarm, about 30 second in the microwave. Whisk in butter, then vanilla and eggs. Gradually add flour mixture, stirring with a whisk.
Place popover pans or muffin tins in preheated oven 3 minutes. Remove from oven and spray liberally with cooking spray. Divide batter among cups, filling until half full. Bake 10 minutes; reduce heat to 350 and bake 15 to 20 minutes or until golden. Remove from pans and sprinkle with powdered sugar, if using. Serve immediately before the popovers deflate. Makes 6 full-size popovers or 12 muffin-size popovers.