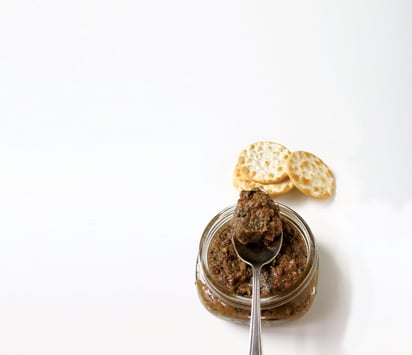 California Ripe Olive and Fig Tapenade
Serve this tapenade on crostini, spread with a soft cheese like feta or goat cheese.
Ingredients
(10)
1/2 cup halved dried figs

2 garlic cloves, peeled

1 cup water

1 cup whole pitted California Ripe Olives, drained

1/2 cup artichoke hearts, drained

1 tablespoon capers, rinsed and drained

1 tablespoon Dijon mustard

1 tablespoon sherry or red wine vinegar

1/4 teaspoon black pepper

1/2 cup extra-virgin olive oil
Ingredient Facts and Health Benefits
Discover fascinating facts and health benefits about some of the ingredients in the recipe, including other delicious recipes!
Directions
Place figs in a microwave-safe measuring cup and cover with cold water. Microwave on HIGH for 4 minutes, or until water is near boiling. Let cool at room temperature, allowing figs to soften. Drain, reserving 2 tablespoons soaking liquid.
Combine figs and reserved liquid with remaining ingredients, except olive oil, in a food processor. Process until smooth, or leave it chunkier to suit your taste.
With the motor running, drizzle in olive oil. Transfer to an airtight container and store in the refrigerator up to 10 days. Makes 3 1/2 cups.