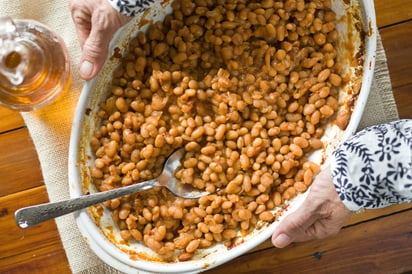 Vermont Baked Beans
This hearty side is slightly sweet with the flavor of maple syrup and fresher tasting than meat-laden beans.
Ingredients
(9)
1 pound navy or pea beans, soaked in water overnight

1/4 cup vegetable oil

1 cup chopped onions

1/2 cup pure maple syrup

1/2 cup canned tomato puree or crushed tomatoes

2 tablespoon molasses

1 tablespoon Dijon mustard

1/2 cup brown sugar

1 teaspoon salt
Ingredient Facts and Health Benefits
Discover fascinating facts and health benefits about some of the ingredients in the recipe, including other delicious recipes!
Directions
Drain beans and combine with 4 quarts fresh hot water in large pot. Bring to boil and reduce heat. Simmer, partially covered, just until tender, 1 1/2 to 2 hours. Drain, reserving cooking water. Place beans in a large, shallow baking dish.
While the beans cook, heat oil in large skillet. Sauté onions until tender. Remove from heat.
Preheat oven to 325F.
Whisk together 1 cup of reserved cooking water, maple syrup, tomato purée, molasses, mustard, brown sugar and salt in a medium bowl.
Add sautéed onion and syrup mixture to beans; stir well. Cover dish tightly. Bake 2 1/2 to 3 1/2 hours, until beans are tender. Check periodically to make sure they have enough liquid, adding more reserved cooking water if necessary.