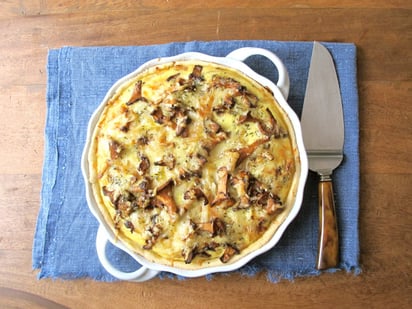 Caramelized Onion-Chanterelle Tart
Savory-sweet onions pair with the king of mushrooms in this rich early fall tart.
Ingredients
(11)
1 refrigerated piecrust

1 tablespoon Dijon country-style (course-grain) mustard

2 tablespoon butter, divided

2 medium onions, sliced lengthwise

Sprigs of fresh thyme

4 ounce chanterelle mushrooms, sliced lengthwise

2 large eggs

1 cup half-and-half

1 cup shredded Gruyere cheese

1/4 teaspoon sea salt

Freshly ground black pepper
Ingredient Facts and Health Benefits
Discover fascinating facts and health benefits about some of the ingredients in the recipe, including other delicious recipes!
Directions
Preheat oven to 350F.
Roll out piecrust to fit in a 12-inch tart pan. Place in pan and press into the sides. Coat surface with mustard. Bake 10 minutes. Let cool.
To prepare filling, melt 1 tablespoon butter in a deep skillet over medium heat. Add onions and sauté 15 minutes. Add salt, pepper and thyme leaves. Scrape into a small bowl.
In the same skillet, melt remaining butter. Add mushrooms and cook 10 minutes. Remove from heat.
Combine eggs and half-and-half and beat until well blended.
Sprinkle about half the cheese on the bottom of tart shell. Spoon in onions. Pour in egg mixture. Place mushrooms all over the top, along with remaining cheese.
Bake 40 minutes, or until tart is golden brown and filling is set. Serve warm or room temperature.