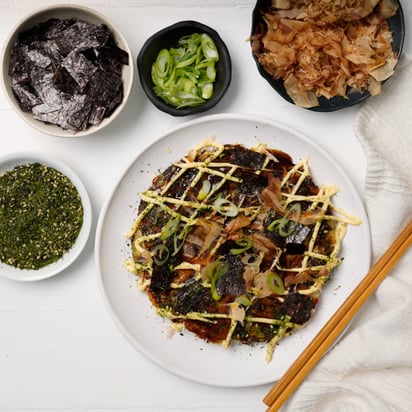 Okonomiyaki: Savory Japanese Pancake
Ingredients
(28)
Savory Pancake:

1/2 cup almond flour

1/2 cup all-purpose or gluten-free flour

1/2 teaspoon baking powder

1/4 teaspoon sugar

1/4 teaspoon kosher or sea salt

1/2 cup nagaimo (mountain yam), peeled and grated (Wear gloves when grating.)

3/4 cup almond milk

1 teaspoon dashi powder

1/2 cup panko breading

4 large eggs

1 1/2 cups scallions, chopped (reserve 1/2 cup for the topping)

1/3 cup pickled ginger, roughly chopped

6 cups green cabbage, finely shredded

4 to 6 tablespoons vegetable oil

Toppings:

Japanese mayonnaise (Kewpie is the best)

Okonomiyaki sauce, store-bought or home-made (see below)

Furikake seasoning

Bonito flakes

Scallions

Pickled ginger

Nori sheets, cut into little pieces

Okonomiyaki Sauce:

1 1/2 tablespoons white sugar

4 tablespoons ketchup

3 1/2 tablespoons Worcestershire

2 tablespoons oyster sauce
Ingredient Facts and Health Benefits
Discover fascinating facts and health benefits about some of the ingredients in the recipe, including other delicious recipes!
Directions
Savory Pancake
Turn the oven on to 200 degrees.
Place the first five ingredients in a bowl and whisk them together. (Make sure to get the lumps out of the almond flour.)
Mix in the nagaimo, almond milk, dashi powder and panko.
Whisk in the eggs one by one.
Stir in 1 cup of the scallions and the pickled ginger. Finish by mixing in the cabbage 1 cup at a time, until all 6 cups have been incorporated.
Heat a nonstick pan on medium heat and add the oil, about 1 tablespoon per pancake.
When the oil shimmers, add 1 cup of batter to the pan. Form it into a circle with a spatula and flatten the top. The pancake should be about 1/2 to 3/4's of an inch thick. Cook for 5 minutes, or until the bottom is golden brown.
Carefully flip the pancake. (It can be hard to flip, so do any mending you need to do at this point to reform the circle.) Place a lid over the top, and cook for another 5 minutes.
Remove the lid. If you would like the pancake crispier on the outside, flip it one more time to re-crisp the top.
Remove the pancake to a plate to serve immediately, or to a sheet pan in the oven while you prepare the rest of the pancakes.
To eat, place one or more toppings on the pancake and enjoy!
Okonomiyaki Sauce
Mix in a bowl until incorporated.