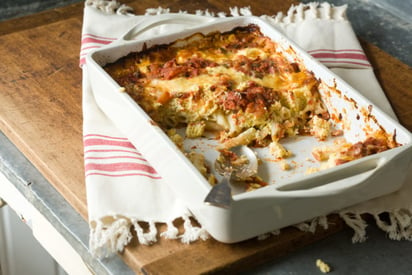 Butternut Sage Baked Pasta
This earthy baked pasta is more sophisticated than the typical marinara-baked versions and makes a lovely main for fall and winter.
Ingredients
(17)
Butternut Squash
1 Butternut Squash

½ cup Water
Tomato Sauce
1 T Olive Oil

1 Onion

2 Garlic Cloves

28 oz Canned Diced Tomatoes

½ cup Chopped Basil
Cheese Filling
3 cup Low Fat Ricotta Cheese

2 Eggs

¼ cup Minced Sage

1 T Dried Minced Lemon Peel

¼ tsp Ground Nutmeg

1 tsp Salt

1 tsp Freshly Ground Black Pepper
To Assemble
½ lb Penne Pasta

or

½ lb Rigatoni

1 cup Shredded Mozzarella Cheese

½ cup Grated Parmigiano Reggiano Cheese
Ingredient Facts and Health Benefits
Discover fascinating facts and health benefits about some of the ingredients in the recipe, including other delicious recipes!
Directions
Preheat oven to 375F.
To make squash: Place butternut squash halves, cut side down, in a baking pan. Add 1/2 cup water and bake 35 to 40 minutes until tender. Cool and then scoop squash flesh from shell. Set aside.
To make sauce: Heat olive oil in a large nonreactive saucepan over medium heat. Add onions and garlic and saute until soft. Add tomatoes, bring to a boil, reduce heat and simmer 15 minutes. Add the basil; set aside.
To make filling: Combine ricotta, eggs, sage, lemon peel, nutmeg, salt and pepper in a large bowl with a wooden spoon. Add cooked butternut squash and combine well. Filling can be chunky; it doesn't have to be mixed until smooth.
To assemble: Ladle half the sauce onto bottom of a 9-by-13-inch baking dish. Place pasta in baking dish and spread evenly. Spoon squash filling over the pasta (it doesn't have to be an even layer; it can look like little pillows, and you may leave small mounds with some pasta peeking out).
Ladle remaining sauce over squash and top with mozzarella and Parmigiano-Reggiano. Cover with aluminum foil and bake 45 to 50 minutes. Uncover and bake an additional 10 minutes until golden brown. Allow to rest 10 minutes before serving.