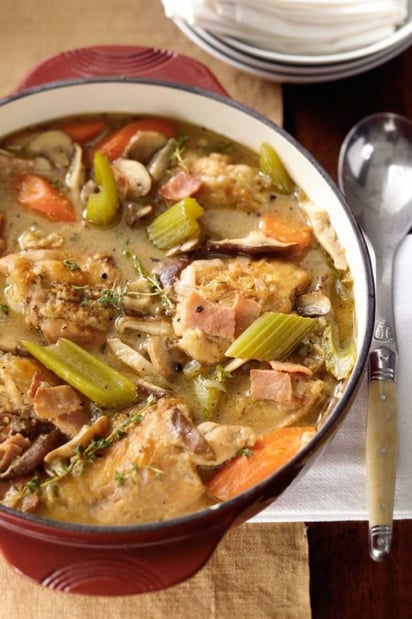 Coq au Vin Blanc
Fruity, white wine flavors the broth in this new take on a classic chicken dish.
Serve this savory dish with rice, noodles or roasted potatoes.
Ingredients
(15)
2 T Olive Oil

4 oz Smoked Lean Deli Ham

8 Bone In, Skin On Chicken Thighs

½ tsp Salt

½ tsp Freshly Ground Black Pepper

½ cup All Purpose Flour

1 Onion

2 Garlic Cloves

8 oz Cremini Mushrooms

or

8 oz White Mushrooms

8 oz Shiitake Mushrooms

1 cup White Wine

14 oz Low Sodium Chicken Broth

2 Carrots

2 Celery Stalks

2 Thyme Sprigs

or

½ tsp Dried Thyme
Ingredient Facts and Health Benefits
Discover fascinating facts and health benefits about some of the ingredients in the recipe, including other delicious recipes!
Directions
Heat oil in a large Dutch oven. Add ham and sauté 5 minutes. Remove.
Sprinkle chicken with salt and pepper and dredge in flour. Cook chicken in same pan until brown. Remove.
Add onion, garlic and mushrooms; sauté 3 minutes. Add wine, chicken broth, carrots, celery, thyme and reserved chicken and ham. Bring to a boil, cover, reduce heat and simmer 25 minutes or until chicken is tender. Remove cover; cook about 10 minutes or until sauce thickens slightly.