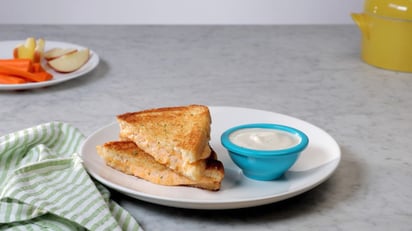 Ultimate Ranch Grilled Cheese
Ingredients
(7)
3 oz Cream Cheese

¾ cup Mayonnaise

1 cup Shredded Cheddar Cheese

1 cup Shredded Monterey Jack Cheese

1 T Hidden Valley® Original Ranch® Seasoning & Salad Dressing Mix Shaker

12 White Bread Slices

or

12 Whole Wheat Bread Slices

or

12 Sourdough Bread Slices

6 T Butter
Ingredient Facts and Health Benefits
Discover fascinating facts and health benefits about some of the ingredients in the recipe, including other delicious recipes!
Directions
In a standing mixer fitted with a paddle attachment or a bowl with an electric mixer, beat the cream cheese and mayonnaise until well-combined and lightened. Stir in the cheese and ranch seasoning mix.
Lay the bread out on a work surface. Butter one side of each piece of bread.
Divide the cheese mixture between six slices of bread; spread evenly on the non-buttered side. Cover with the remaining bread so that the buttered sides are facing out.
In a nonstick skillet set over medium heat, cook the sandwiches until golden brown on both sides and the cheese mixture is melted, about 8 minutes total. Serve hot.