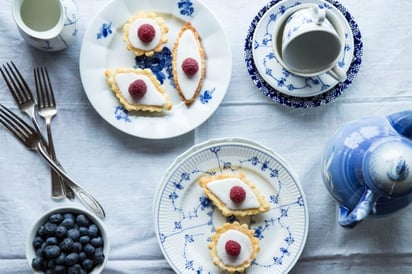 Icelandic Almond Tarts
These sweet Icelandic almond tarts are perfect for a tea party or springtime celebration.
These tarts are formed in small tart tins available at most kitchen shops. If you don't have any, a mini muffin tin works nicely.
Ingredients
(18)
Tart Crust:

1 1/4 cup all-purpose flour

1/4 cup confectioners sugar

1/2 cup cold, unsalted butter, diced

1 egg yolk

1 teaspoon orange juice

1 tablespoon water

Filling:

1/2 cup finely ground almond flour

1/4 cup softened butter

1/2 cup sugar

2 eggs

1/4 teaspoon salt

Icing:

1 cup powdered sugar

2 tablespoon water

1/2 teaspoon almond extract

Fresh berries, optional
Ingredient Facts and Health Benefits
Discover fascinating facts and health benefits about some of the ingredients in the recipe, including other delicious recipes!
Directions
Preheat oven to 375F. In the bowl of a food processor combine the flour and the confectioner's sugar. Add the butter and pulse until the flour is pea sized and the mixture looks crumbly. In a separate, smaller bowl whisk the egg yolk, orange juice and water together. Add to the work bowl and process until a soft dough forms.
Pinch off a small amount of dough, roughly 2 tablespoons worth and press with your thumbs into individual tart molds. Be sure to make the dough slightly thicker along the edges. Place on a rimmed baking sheet and set aside.
In medium sized bowl, cream the butter with the almond flour and the sugar. Add the eggs and salt and whisk until smooth. Spoon the mixture into each mold, ¾ of the way full. Bake for 15-20 minutes until the tarts are golden. Allow to cool completely.
Prepare the icing in a small bowl and mix until completely smooth. Lightly ice each tart and garnish with berries if desired.