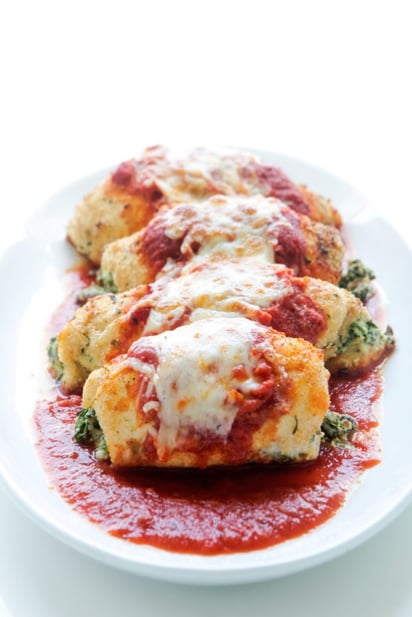 Easy Stuffed Rolled Chicken
Bacon, spinach, and cheese are stuffed inside chicken breasts for a loaded, satisfying dinner.
Ingredients
(11)
4 (4-ounce) boneless, skinless chicken breasts, flattened to 1/4 inch

1/2 teaspoon coarse salt, divided

Freshly ground black pepper

4 pieces bacon

12 ounce spinach, stemmed

4 ounce cream cheese, softened

1/4 cup grated Parmesan cheese

2 egg whites, slightly beaten

1 1/4 cup breadcrumbs (regular or Italian style)

2 cup jarred, low-sodium marinara sauce

1 cup shredded mozzarella cheese
Ingredient Facts and Health Benefits
Discover fascinating facts and health benefits about some of the ingredients in the recipe, including other delicious recipes!
Directions
Preheat oven to 425F. Spray bottom of a casserole pan with nonstick spray.
Sprinkle both sides of chicken with half the salt and pepper.
Place bacon in skillet over medium heat and cook until crisp. Remove bacon and reserve 1 tablespoon of bacon grease. Set aside 15 to 20 large spinach leaves. Add remaining spinach to skillet and stir until slightly wilted, about 2 minutes. Remove from heat.
Transfer wilted spinach into bowl of a food processor. Add cream cheese, Parmesan, bacon and remaining salt. Process until just smooth.
Place reserved spinach on top of chicken. Place 2 tablespoons of spinach mixture on top and spread. Roll up chicken, dip in egg whites and roll in breadcrumbs. Place seam side down in prepared pan. Bake 25 to 30 minutes. Remove from oven. Spoon on marinara sauce and sprinkle with mozzarella. Return to oven and broil 2 to 3 minutes, until cheese melts. Serves 4.