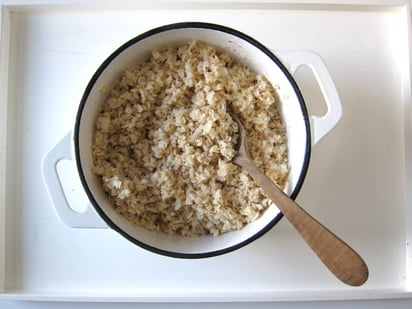 Savory Brown Rice
When you rinse the brown rice and "scrub" the grains between your fingers, it helps to soften the outer husk
This recipe is more about technique. When you rinse the brown rice and "scrub" the grains between your fingers, it helps to soften the outer husk. We found that it took less liquid and time to cook, and yielded savory rice, not clumpy, but plump nutlike grains.
Ingredients
(2)
2 1/2 cup brown rice

1 quart vegetable broth
Directions
Place rice in a large bowl and cover with water. Let stand 10 minutes. Stir the grains around in the bowl. You'll notice that the water has become cloudy. Drain well.
Return rice to the bowl and cover with fresh water. Dip your hand into the bowl, and rub the grains between your thumb and fingers, scrubbing the grains. Drain.
Place rice in a 3-quart saucepan. Stir in vegetable broth. Bring to a boil. Cover and simmer 25 minutes. Turn off heat and let the rice stand, covered, another 10 minutes. Fluff with a fork and serve. Makes 5 cups.