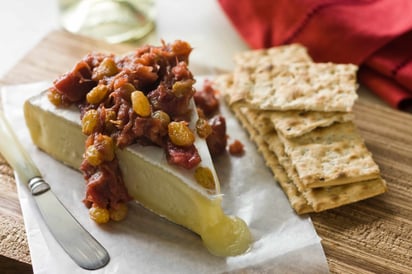 Rhubarb Chutney
Make rhubarb's tart flavor available all year with this simple relish.
This mellow chutney is perfect on top of softened brie cheese. It's also a great mate with grilled pork.
Ingredients
(8)
2/3 cup apple cider vinegar

1 1/2 cup packed light brown sugar

8 cup rhubarb, cut into ½-inch pieces

1 cup golden raisins

1/4 cup peeled and finely chopped fresh ginger

3 garlic cloves, minced

1/4 teaspoon salt

12 black peppercorns
Directions
Place vinegar and sugar in a nonreactive saucepan or Dutch oven. Bring to a boil over medium-high heat.
Add rhubarb and remaining ingredients to pan. Simmer, uncovered, stirring occasionally, until rhubarb is tender and mixture thickens, 6 to 8 minutes.
Cool completely. Store in a glass jar or plastic storage container in refrigerator. Bring to room temperature before serving.