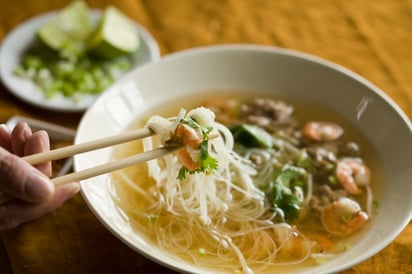 Kway'teo
A traditional "dry soup" from Asian food authority Corinne Trang.
Ingredients
(21)
Stock:

3 to 4 pound slab baby back pork ribs

3 tablespoon fish sauce

4 ounce fresh ginger, peeled and thinly sliced

8 -- green onions, finely chopped

1 pound daikon, peeled and cut into 1-inch rounds

5 quart water

1 teaspoon white or black peppercorns

1 teaspoon kosher salt

Soup:

3 tablespoon vegetable oil

8 clove garlic, minced

2 -- limes, quartered

2 -- red Thai chiles, stems and seeds removed and thinly sliced into rounds

1 pound fresh mung beans sprouts, thin roots removed

4 -- green onions, thinly sliced

1 bunch cilantro, coarsely chopped

1 pound ground pork

1 pound dried rice sticks or rice noodles

24 -- shrimp, peeled and deveined

1 tablespoon fish sauce
Ingredient Facts and Health Benefits
Discover fascinating facts and health benefits about some of the ingredients in the recipe, including other delicious recipes!
Directions
To prepare stock, place pork ribs, fish sauce, ginger, green onions, daikon and 5 quarts water in a large stockpot. Bring to a boil over high heat. Reduce heat to medium-low, partially cover with a lid, and simmer 4 to 5 hours. Add salt and peppercorns; simmer an additional 30 minutes, skimming foam and fat from top. Strain stock, discarding solids.
To prepare soup, heat oil in a small pan over medium heat. Add garlic and fry until golden. Remove from heat and transfer to a heatproof bowl. Set aside.
Place lime wedges, chiles, bean sprouts, green onions and cilantro in separate dishes.
Bring stock to a boil over high heat. Reduce heat to low and simmer. Place a small portion of pork in a ladle and lower it into the pan just enough to allow some of the stock inside the ladle. Stir with a fork to separate the pork and release the contents into the stock. Repeat with remaining pork.
Bring a large pot of water to a boil over high heat. Cook noodles until tender yet firm. Drain well, reserving cooking liquid. Cook shrimp in the cooking liquid until opaque, about 1 minute. Drain well.
Transfer noodles to 8 soup bowls. Place shrimp on top of noodles. To serve as a regular soup, ladle broth with ground pork over each serving of noodles and shrimp. To serve as a dry soup, use a slotted spoon to transfer ground pork over noodles and shrimp. Ladle broth into 8 individual small rice bowls and serve on the side for sipping throughout the meal.
Garnish with fried garlic and oil, chiles, bean sprouts, green onions and cilantro. Squeeze a lime wedge over each serving. Add fish sauce.