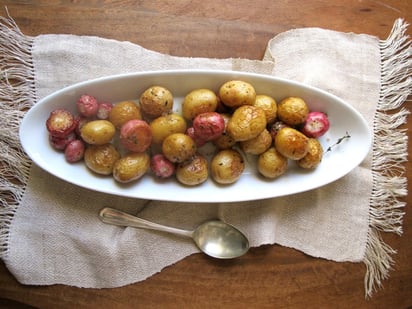 Roasted Baby Yukon Gold Potatoes and Radishes
Use baby radishes and baby Yukon gold potatoes in this roasted vegetable side dish.
Ingredients
(6)
2 pound small Yukon Gold potatoes

1 bunch small radishes

2 to 3 tablespoon tablespoons olive oil

2 teaspoon coarse salt

1 teaspoon black pepper

5 sprig fresh thyme
Directions
Preheat oven to 375F.
Place radishes and potatoes on a baking sheet pan. Drizzle with olive oil and toss to coat. Sprinkle with salt, black pepper and leaves from thyme sprigs.
Roast 40 minutes, rotating pan and stirring halfway through cooking time, until tender.