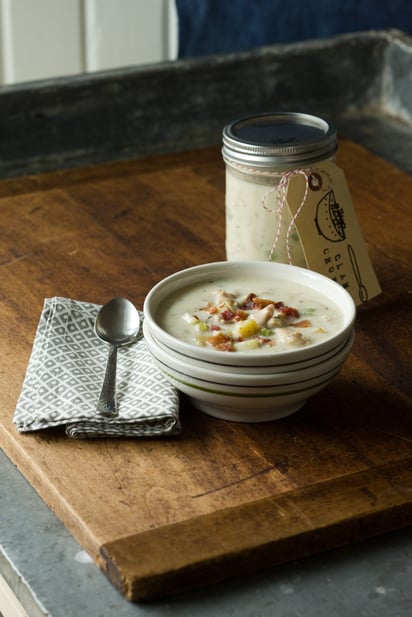 Clam Chowder
Chef Will Leroux makes batches of this creamy clam chowder to give as gifts during the holidays.
Ingredients
(12)
1/2 cup butter

1/2 onion, diced

2 stalk celery, diced

1/2 cup flour

1 teaspoon dried thyme

1 teaspoon minced garlic

8 (6 1/2-ounce) cans clams, with juice

2 cup cooked diced potatoes

1 quart half-and-half

3 slice bacon, cooked until crisp and crumbled

1 teaspoon freshly ground black pepper

3 dash Tabasco
Ingredient Facts and Health Benefits
Discover fascinating facts and health benefits about some of the ingredients in the recipe, including other delicious recipes!
Directions
Melt butter. Add onions, garlic, thyme and celery. Saute until onions are translucent. Add flour; cook, stirring, 5 minutes.
Add clams and their juice. Cook over medium-low heat 20 to 30 minutes. Do not boil.
Add potatoes and half-and-half. Heat to 170 degrees. Do not boil.
Add bacon, pepper and Tabasco. Makes 2 quarts.