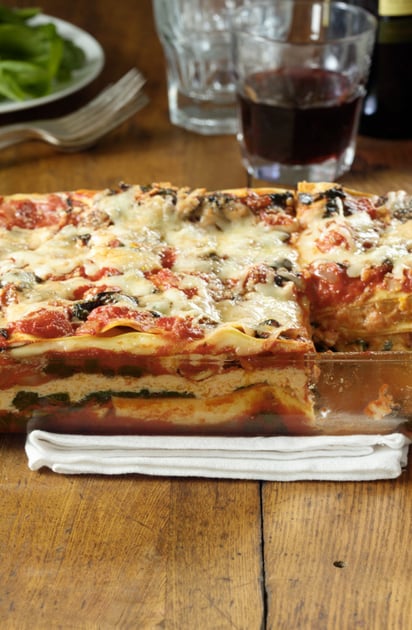 Squash and Greens Winter Lasagna
Butternut squash and turnip greens—unlikely for lasagna, but so good.
Ingredients
(18)
Sauce:

2 tablespoon olive oil

1 onion, chopped

3 garlic cloves, minced

1 (28-ounce) can stewed tomatoes

1 (6-ounce) can tomato paste

1/2 cup dry red wine

1 tablespoon red wine vinegar

1/4 teaspoon crushed red pepper

1 (6-ounce) bag fresh spinach, chopped

Lasagna:

1 (15-ounce) container part-skim ricotta cheese

1 egg

2 cup shredded provolone cheese, divided

1 1/4 cup cooked, mashed butternut squash (1 medium squash)

12 no-boil lasagna

4 cup torn turnip greens, blanched

3/4 cup grated Parmigiano Reggiano cheese
Ingredient Facts and Health Benefits
Discover fascinating facts and health benefits about some of the ingredients in the recipe, including other delicious recipes!
Directions
Preheat oven to 350F.
To prepare sauce, heat olive oil in a large skillet. Add onion and garlic; saute 5 minutes. Add tomatoes, tomato paste, wine, vinegar and crushed pepper. Cook 5 minutes. Stir in spinach.
To prepare lasagna, combine ricotta cheese, egg, ½ cup provolone cheese and mashed squash; stir well.
Spoon a small amount of tomato sauce into bottom of a 13-by-9-inch baking dish. Layer 4 uncooked noodles, turnip greens, 3/4 cup provolone, half the ricotta cheese mixture, and 1/3 of the remaining sauce. Add 4 more lasagna noodles, top with half the remaining tomato sauce, the remaining 3/4 cup provolone, and remaining ricotta cheese mixture. Top with 4 more noodles, remaining tomato sauce and Parmesan cheese.
Cover with foil and bake 40 minutes. Uncover and bake 5 to 10 minutes longer or until top is browned.