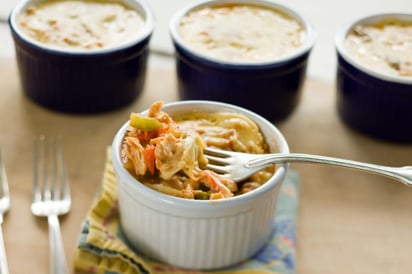 Keshi Yena (Chicken Stuffed Cheese)
An unusual and delicious way to use leftover roast chicken.
This recipe is from the Avila Hotel, a lovely beach resort that was once the original governor's mansion.
Ingredients
(12)
3 tablespoon vegetable oil

1 -- green bell pepper, chopped

1 -- red bell pepper, chopped

1 medium chopped onion

2 tablespoon raisins

pimiento-stuffed green olives, chopped:

3 cup shredded cooked chicken

3 tablespoon chopped dill pickles

2 tablespoon tomato paste

1/2 teaspoon salt

1/4 teaspoon Coarsely ground black pepper

16 slice thinly sliced deli-style Gouda cheese (about 10 ounces)
Ingredient Facts and Health Benefits
Discover fascinating facts and health benefits about some of the ingredients in the recipe, including other delicious recipes!
Directions
Heat oil in a large skillet. Add peppers and onions; saute 5 minutes. Add raisins, olives, chicken, pickles, tomato paste and salt. Cook 5 minutes. Let cool.
Grease 4 (8-ounce) ramekins. Line ramekins with 12 slices of cheese. Fill with chicken mixture. Top with remaining slices of cheese. Tuck in any cheese that hangs over the edge.
Place ramekins in a large pan. Add hot water halfway up the sides of ramekins; cover pan tightly with foil or a lid and place over medium-high heat. Cook 15 minutes. Serve immediately.