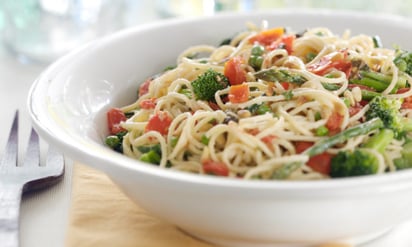 Pasta Primavera
Creamy Alfredo sauce and vegetables make a deluxe pasta favorite.
Use whatever vegetables are in your refrigerator to make this classic pasta dish.
Ingredients
(25)
Tomato topping:

2 tablespoon olive oil

1 clove garlic, minced (about 1 teaspoon)

3 medium red, ripe tomatoes, cut into 1-inch cubes

1/2 cup chopped fresh basil leaves

1/2 teaspoon salt

1/2 teaspoon freshly ground pepper to taste

Pasta and Alfredo Sauce:

1 pound spaghetti or spaghettini

1/4 cup lower sodium chicken broth

1/2 cup mascarpone cheese

1/2 cup heavy cream

2/3 cup grated Parmesan cheese

Vegetables:

1 pound broccoli, trimmed and cut into bite-size pieces

2 small zucchini, cut into 2-inch matchstick slices (about 1 1/2 cups)

4 asparagus spears, cut in thirds after breaking off their tough ends

2 cup fresh or frozen green peas

1 tablespoon olive oil

1/2 teaspoon salt

1/4 teaspoon Freshly ground pepper

1/2 teaspoon dried red pepper flakes

1/4 cup chopped parsley

2 tablespoon butter

Pine nuts (optional)
Ingredient Facts and Health Benefits
Discover fascinating facts and health benefits about some of the ingredients in the recipe, including other delicious recipes!
Directions
To make tomato topping, heat 2 tablespoons olive oil in a saucepan. Add garlic and tomatoes; cook about 4 minutes, stirring gently so as not to break up tomatoes any more than necessary. Stir in basil, salt and pepper to taste.
Cook spaghetti in boiling water until al dente, almost but not quite tender. Drain well, and set aside.
While spaghetti is cooking, make Alfredo sauce. Gently heat chicken broth, mascarpone cheese and cream in a very large saucepan. Add Parmesan cheese and stir until smooth. Set aside.
In boiling water, cook broccoli 3 minutes. Add zucchini and asparagus and continue cooking until they are crisp-tender, about 2 minutes. Add peas and cook 30 seconds if frozen, 1 minute if fresh. Drain vegetables well.
Heat olive oil in a large skillet; add vegetables, salt, pepper, pepper flakes and parsley. Cook until thoroughly heated, about 2 minutes, stirring gently. Add butter; toss gently.
Add spaghetti to Alfredo sauce; toss to coat. Add vegetables, tossing and stirring over very low heat.
Serve spaghetti topped with the tomato topping. Garnish with pine nuts, if desired.