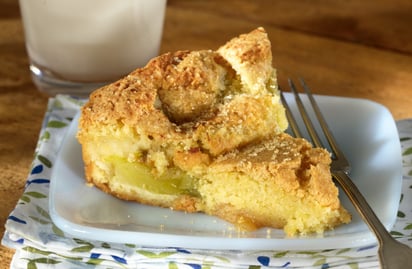 Green Tomato Breakfast Cake
Before the first frost hits, harvest your late-run green tomatoes and whip together this sweet and crumbly breakfast cake.
The recipe is based on a 40-year-old recipe for plum cake that first appeared in Marion Burros and Lois Levine's The Elegant but Easy Cookbook. This cake is just as good for dessert as it is for breakfast.
Ingredients
(11)
Nonstick cooking spray

1/3 cup butter, softened

1 cup sugar

2 large eggs

1 teaspoon vanilla extract

1 cup sifted all-purpose flour

1 teaspoon baking powder

1/8 teaspoon salt

2 green tomatoes, cored and cut into eighths

2 teaspoon turbinado or granulated sugar

1/2 teaspoon ground cinnamon
Ingredient Facts and Health Benefits
Discover fascinating facts and health benefits about some of the ingredients in the recipe, including other delicious recipes!
Directions
Preheat oven to 350F. Spray a 9-inch round cake pan or baking dish with oil.
Cream butter and sugar. When slightly fluffy, beat in eggs and vanilla.
Combine flour, baking powder and salt and sift into the creamed butter mixture; beat well. Spoon batter into prepared pan. Arrange green tomato pieces in concentric circles over batter. Sprinkle lightly with sugar and cinnamon.
Bake 50 minutes to 1 hour or until cake is firm and golden and tastes done.