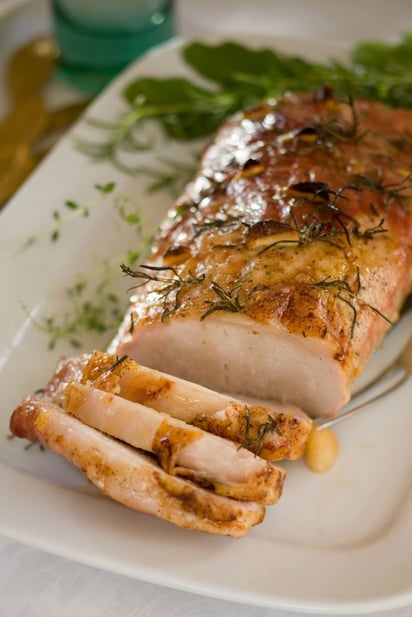 Roast Pork Loin
Apple cider brings out the natural sweetness of pork in this recipe from Tuckaway Farms.
Ingredients
(5)
1 teaspoon salt

1/2 teaspoon Coarsely ground black pepper

3 pound boneless pork loin

1 sprig fresh rosemary

2 cup apple cider, divided
Ingredient Facts and Health Benefits
Discover fascinating facts and health benefits about some of the ingredients in the recipe, including other delicious recipes!
Directions
Preheat oven to 350F.
Combine salt and pepper; rub on roast. Make slits over entire surface of roast and insert rosemary leaves into slits.
Place roast fat side up in a medium roasting pan. Pour in 1 1/2 cups apple cider. Cook 1 1/4 to 1 1/2 hours (about 30 minutes per pound), basting every 30 minutes. Remove from oven and let stand 15 minutes before slicing. Add 1/2 cup apple cider to pan; cook, scraping pan to loosen browned bits. Serve pan drippings with roast.