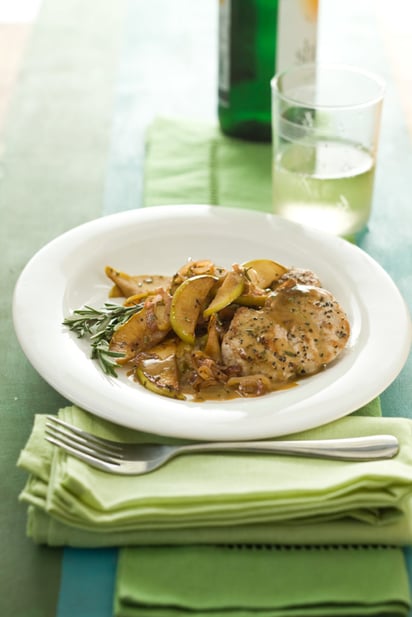 Pork and Apples with Cider Cream Sauce
Pork tenderloin medallions cook quickly in a creamy sauce.
Be sure to use heavy cream in the sauce instead of milk or half-and-half as they will curdle.
Ingredients
(19)
Pork:

2 pound pork tenderloin, cut into 12 (2-inch thick) slices (medallions)

1/2 teaspoon salt

Freshly ground black pepper

1 tablespoon vegetable oil

Apples:

2 tablespoon butter

3 Granny Smith apples, unpeeled and thickly sliced

2 medium shallots, thinly sliced (about ½ cup)

1 tablespoon finely chopped fresh rosemary

1 1/2 teaspoon teaspoons sugar

1/4 teaspoon salt

Sauce:

1/2 cup apple cider

1/4 cup reduced-sodium chicken broth

1/2 teaspoon finely chopped fresh rosemary

1/4 cup heavy cream

1/2 teaspoon salt

Freshly ground black pepper
Ingredient Facts and Health Benefits
Discover fascinating facts and health benefits about some of the ingredients in the recipe, including other delicious recipes!
Directions
To prepare pork, place medallions in between sheets of plastic wrap. Using a meat mallet or a heavy skillet, flatten each piece to an even thickness of about 1/4 inch. Remove plastic wrap and season both sides of medallions with salt and pepper.
Heat a 12-inch saute pan or skillet over high heat. Add vegetable oil. When oil starts to smoke, place half the meat into pan and saute on both sides until well browned and thoroughly cooked. Transfer to a plate and keep warm. Repeat with remaining meat.
To prepare apples, reheat pan over high heat. Add butter. When hot, add apples, shallots, rosemary, sugar and salt. Saute until apples are golden brown and tender, about 8 minutes, shaking pan occasionally.
To prepare sauce, add cider, broth and rosemary to pan. Cook, whisking to scrape up any browned bits, over high heat, about 5 minutes. Add heavy cream; reduce heat to medium and simmer until mixture thickens to sauce consistency, 5 to 10 minutes. Add salt and pepper.
Return apples and pork to the pan. Simmer several minutes.