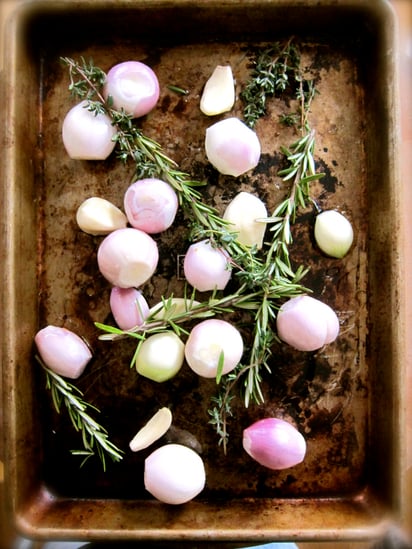 Roasted Shallot Vinaigrette
Try this mild vinaigrette made from shallots on salads or sautéed vegetables.
This mild vinaigrette is perfect on fresh asparagus or a salad of baby greens with apples, toasted pecans and Gruyère cheese or in a wheat berry salad.
Ingredients
(7)
6 shallots, peeled

2 garlic cloves, peeled

1 cup extra-virgin olive oil, divided

Sprig of rosemary

1/3 cup white balsamic vinegar

1/2 teaspoon salt

Freshly ground black pepper
Directions
Preheat oven to 400F.
Toss together shallots, garlic and 1/2 cup olive oil. Spread on a baking pan. Roast, stirring occasionally, 20 minutes, or until shallots are soft and caramelized. Drain shallots, reserving oil in a measuring cup. Add enough additional oil to measure 2/3 cup.
Place shallots, rosemary and vinegar in a food processor. While machine is running, slowly drizzle in reserved oil. Add salt and pepper. Makes 24 (1-tablespoon) servings.