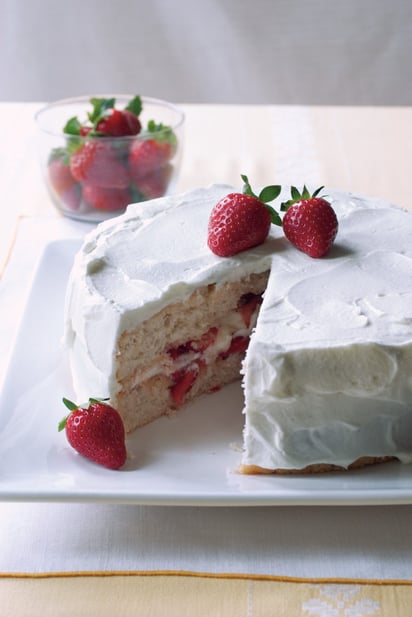 Strawberry Festival Shortcake
Ingredients
(13)
2 cup sliced strawberries

2 cup granulated sugar, divided

3/4 cup solid vegetable shortening

3 beaten egg yolks

2 1/4 cup sifted all- purpose flour

3 1/2 teaspoon baking powder

3/4 cup cold water

1/4 cup crushed strawberries

1 teaspoon almond extract

3 egg whites, stiffly beaten

1 cup whipping cream

1/2 cup confectioners' sugar

whole berries for garnish
Ingredient Facts and Health Benefits
Discover fascinating facts and health benefits about some of the ingredients in the recipe, including other delicious recipes!
Directions
Toss strawberries with 1/2 cup granulated sugar. Line two 9-inch round cake pans with wax paper. Preheat oven to 350 degrees.
Cream shortening and remaining granulated sugar. Add egg yolks; mix well. In separate bowl, mix flour and baking powder. In another bowl, mix water, crushed strawberries and almond extract. Alternately add dry and wet mixtures to creamed mixture. Fold in egg whites.
Pour batter into cake pans; bake 20 minutes or until toothpick inserted in center comes out clean. Cool.
Whip cream with confectioners' sugar. Spread 1/3 of whipped cream on one cake layer. Top with sliced sugared strawberries. Top with second cake layer. Spread remaining whipped cream on top and sides. Garnish with whole berries.